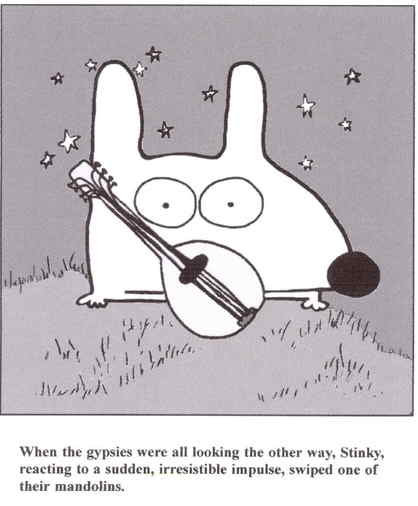 A couple of years ago a friend of mine showed me a stack of photocopied cartoons featuring a dog named Stinky (www.stinkydog.com), created and drawn by Samantha McCullough. I instantly fell in love with the image of Stinky. I was so enthused that I contacted Sam, and asked her if there was anything I could do to participate in the great fun that was clearly All Things Stinky.
She then read some of my stuff, and together we decided that it might be fun if I wrote some captions for her collection of Stinky doing … oddball Stinky stuff. So she sent me maybe thirty of her best Stinky drawings, and for about a week I lost my mind. All I did was walk around the house trying to think of funny Stinky captions. I became obsessed to the point of actually walking into walls and putting my slippers on the wrong foot.
So I wrote the captions, and she did up a bunch of one-panels with them, and then … then I'm not sure what happened. I think life happened. She's a busy mom, and had a Stinky store wherein she sold many Stinky T-shirts, hats, and coffee mugs, and just then I got involved with this four-book co-authoriship deal, and we just sort of never did anything with the cartoons.
This morning I was going through my files, and there were our old Stinky cartoons! So I emailed Samantha, asked her if I could run them on my blog, and she said of course.
So here's the first two! We have no idea if anyone but us will think these are funny, but if any of you miscreants guys do, I'll start running these every once in awhile.
But don't you love this dog? (We keep on our bed a stuffed Stinky doll Sam once sent me. That's what I'm talkin' 'bout.)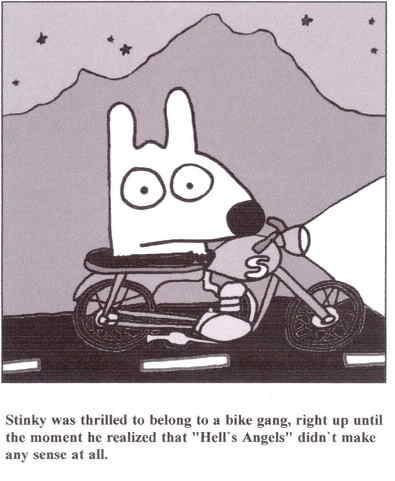 ***************************************************************************************************************************
Email: johnshore@sbcglobal.net
Follow: http://twitter.com/johnshore
Beriend: http://www.facebook.com/john.shore1
Be fan: http://www.facebook.com/pages/John-Shore/89494795412?ref=s