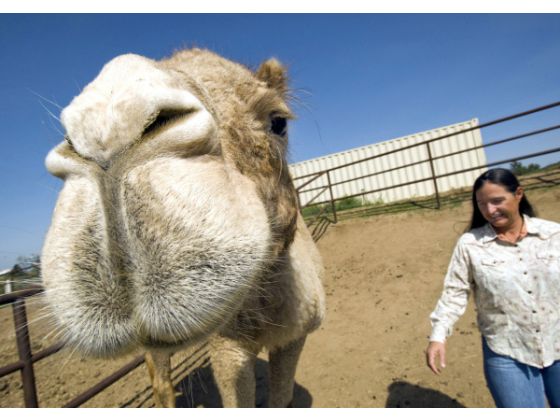 This is the actual camel that sneezed on me (or for sure one of its relatives)! (If you're just joining us, please see this morning's Vendors Stiffed by Crystal Cathedral.) Doesn't it just look like its nickname is Sneezy? I got this picture (which I've hereby borrowed totally without permission) from a current story in the Orange County Register, entitled Gala planned as church vendors went unpaid. Do check out the story, which features this passage:
already owes $16,000 they haven't yet paid] about throwing an extravagant party with live music, a marching band, airplanes flying overhead and a display of the old car in which Schuller started out his ministry, she said.
Schuller's son-in-law Tim Milner talked to Galletta [who runs a public relations firm to whom the Crystal Cathedral
But before hitting the link to that story, put on a bib or something. Because you never, ever know.