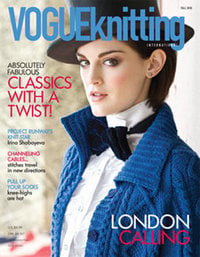 This morning I learned that there's a magazine called VOGUEknitting.
For the benefit of other magazines who might also be looking to reach audiences one might not naturally associate with them, might I suggest these other specialty ancillary issues?
SPORTS ILLUSTRATED Board Games!
AARP Ultimate Fighting!
TV GUIDE
Home Schooling!
PC WORLD Amish!
BETTER HOMES & GARDENS Outhouses!
PEOPLE Trappist Monks!
COSMOPOLITAN Morgues!
BON APPETIT Awesome Blossoms!
PREVENTION Buzz Saw Juggling!
GOOD HOUSEKEEPING Mud Wrestling!
GUNS AND AMMO Hot Yoga!
LADIES HOME JOURNAL Goin' Clubbin'!
FIELD AND STREAM Closet Organizing!
MIDWEST LIVING Surfing!
PLAYBOY Burkas!
ROLLING STONE Accordion Solos!
EVERYDAY FOOD Monkey Brains!
NATIONAL GEORAPHIC Fence Repair!
GLAMOUR Liver Spots!
SOUTHERN LIVING Igloo Decorating!
REAL SIMPLE Lear Jet Repair!
PARENTS Making Bongs!
SEVENTEEN Denture Care!
MOTOR TREND Rowboats!
INSTYLE Clogs!
SMITHSONIAN Longer Lashes!
MEN'S HEALTH Flasks!