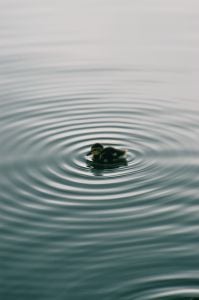 It feels weird to have lately made my blog so much about me personally. But I suppose that's all a blog really is anyway.
But having come this far, I find that I do now want to share with you the biggest way in which my childhood affected me. (For those new here, see, for a very quick wrap-up of my childhood, The 10 Biggest Things That Ever Happened to Me.)
Because of the way that as a child the main players in my life changed so much (dad disappearing; mom disappearing; dad reappearing; sister disappearing), the one true fact about life that permanently permeated itself throughout the entirety of my consciousness was that things change.
Everything is fluid. Nothing remains. What is won't be.
People leave.
This core, informing conviction that all changes always had two majorly significant impacts on the way I think and live. One of those impacts is negative; the other is positive.
The negative effect of having little to no sense of the permanent in life is that I'm the worst ever at anything resembling long-term planning. It didn't even occur to me, for instance, to think of planing ahead for college. At the end of my senior year of high school I had at least one extremely significant scholarship offer on the table (born of my theater work); and I at least liked the idea of continuing to avoid real life by staying in school. But it never occurred to me that you have to do stuff to end up in college—that, six months out, you're supposed to fill out forms, and … call people and stuff. I never made plans for lunch, much less for the rest of my life. When I met my future wife, I'd never reconciled any of my bank statements, or done my taxes—even though by then I'd been working and living on my own for six years. Later in life, I did go to college, full-time—but didn't take a degree, since I only took the classes I wanted. It's why, at thirty-eight, I was making eleven dollars an hour working a job a teenager should have. It's why I didn't own a home until I was fifty. I just don't care about money. My attitude has always been that as long as I have enough money for today, I'm good. And if I don't have enough money for today, I adjust my needs until they match whatever money I do have—and I'm good again. Great for living out in the wild, in prison, or on the streets. Pretty lame for regular life, though.
The positive impact of the way my consciousness was formed is that I am (if I can say it myself) a genius of the now.
Now,
I get. I'm Joe in the Moment. I have this really deep, abiding conviction that everything worth knowing is present within every moment. You just have to not try to
change
the moment, is all; to find the everything that any given moment has to offer, you simply have to park yourself in and on it—to trust that moment, hear it, let it unfold for you.
Dive! dive! dive!
is my motto. It's why, at such a very young age (ten), I became as enamored as I did of Zen Buddhism—a love that continues to this day. (And yes, calm down: I'm a Christian.) I
get
that philosophical system; Zen is the language I naturally speak. It's also why I was a good actor; you cannot get more in the moment than acting. It's why I'm basically such a slave to art; appreciating and even creating art is all about the moment.
It's definitely why I write. Writing is nothing if not about sinking into and exploring a moment outside of any context but that moment. I was born to write, basically. And I've always known it.
And now you know a bit of why that is.
So … yeah.
More stuff about me personally. What a thrill for you this must all be.
Do you think that any of the big things that were sort of imprinted on you as a kid led you to experience life, yourself, and others in the profoundly unique way that you do or have? If so, share! It's so interesting, isn't it, the way we're all formed?