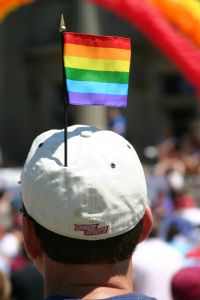 I know what you're thinking: John, do you get enough sleep? And I appreciate your concern. My wife also wonders if I get enough sleep. And if she'd quit kicking me in her sleep, I just might. But that's really another story. (And I'm kidding. The girl sleeps like she's dead.)
Wanna recap the week? Great! Let's!
First, Roger McClellan, leader and guiding light of The Progressive Christian Alliance, alerted me to the fact that Sojourners had turned down a video ad from Believe Out Loud that promoted the acceptance of gays in church.
"I'll go check it out, friend Roger!" says I. And I did. And I saw the video was great.
"How could Sojourners turn this down?," I thought. "That's crazy." So then I write An Open Letter to Famous Progressive Christian Jim Wallis. Then I make some oatmeal for breakfast because oatmeal's super-good for you and, more importantly, an outstanding vehicle for butter and brown sugar.
Then Dan Savage posts a blog entry featuring an pretty beefy (REAP THE BEEF!) excerpt from my Wallis letter.
Then the whole story of Sojourners turning down the "Welcome" video so heated up the Internet that I started roasting marshmallows off my computer screen. (Thanks in significant chunk to the most excellent Becky Garrison, who pointed The Revealer my way, and featured my stories in the story she wrote for Killing the Buddha, I sort of kept being part of that story.)
Then Jim Wallis was sort of basically forced to issue a defense for turning down the video.
I read that defense, rolled up the ol' sleeves, realized I was wearing a short-sleeve shirt, focused, and wrote Mr. Wallis and His Big Gay Waffle (which was published by Huffington Post under the more studious title, "Jim Wallis and 'Defending the Dignity and Civil Rights of Gays and Lesbians.")
Then all Christians everywhere finally and forever realized that God cares no more about whether someone is gay or lesbian than he does what color their hair is.
And here we are!
A new day dawned!
A whole new world, I'm pretty sure.
Read Roger McClellan's An Open Letter to Sojourners.