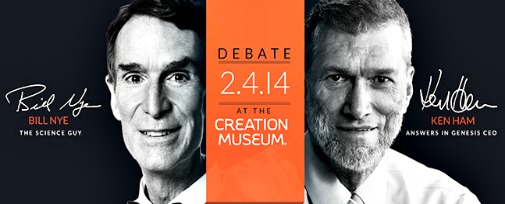 In tonight's much ballyhooed Creation vs. Science debate, viewers sitting in front of their computers will watch Bill Nye (representing playful but serious science) and Ken Ham (representing strident religious fundamentalism and practiced con artistry) vigorously debate the veracity of the theory of evolution.
My big prediction? The mind of literally nobody who watches the debate will change one iota. Bill Nye will make infinitely more sense; Ken Ham … well, won't. But, greatly compensating for his steadfast irrationality, Ken Ham will be passionate, articulate, winningly confident, and generally convincing in the way of people who've made very successful public careers pouring syrup on bullshit and selling it as snow cones.
Viewers will know the one thing after the debate that they knew before it began: that no one can prove there is a God, and that no one can prove there isn't.
Survey says: Boring. Because nobody changes that truth.
[UPDATE: A hilarious 40-second recap of the whole debate.]