The methodology for the Duke Summer Institute is "Word Made Flesh," as they say it here–"that God was in Christ reconciling the world to himself" (II Cor 5:17). Because God in Christ shows us that a new reality is possible, we can both lament the tragic divisions that claim to be "just the way things are" and live in hope that another world is possible. But all of this hits the ground in bodies. Unless it is an enfleshened reality, talk of reconciliation rings hollow.
So the talks that have resonated with this crowd–the stories that keep coming up at the lunch table–are about John Perkins realizing after fifty years of community development in the place where he was born that his mother, who died of malnutrition when he was seven months old, died because she gave the last of herself to him. They are about Sarah Jobe, a prison chaplain, learning from an inmate at the prison where she works to pray that her heart would not be hardened. They are about Maggy and Maison Shalom, Mary Nelson and Bethel New Life, New Song Urban Ministries in Sandtown, the Church of the Martyrs in San Salvador. The best teaching this week has pointed toward these icons of the ministry of reconciliation.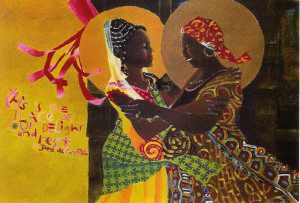 Midway along the journey of this week, I realized today that it was the Feast of the Visitation–the day when Christians remember Mary, pregnant with the living Word, going to meet Elizabeth, who was still carrying John. And when the mothers embraced, the text tells us, the children leapt within their wombs. And as I thought of Mary, bearing a Word within her that could leap with joy, I recalled a point that the New Testament scholar Richard Hays made here on Tuesday–that in II Cor 5, when Paul says that God has given us the ministry of reconciliation, verse 18 literally says that God has "placed the word of reconciliation in us."
Maybe we are, each one of us, pregnant with the possibility that shines forth in the lives of these saints.
Maybe all we need is the embrace of others to feel this word leaping within us. That and the grace to give birth to it in the places where we are.