Many thanks to those of you who prayed for, supported, and joined on 21st Century Freedom Ride from Durham to Atlanta to Birmingham, Alabama. I look forward to telling parts of the story here, but I'm also eager to introduce other riders who have their own story to tell. Below is a reflection from Emily Hunt, a Native American sister from North Carolina.
By Emily Hunt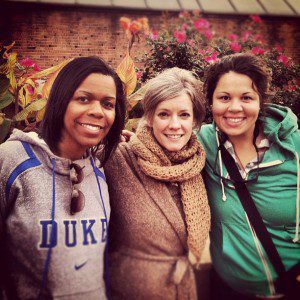 In his book The Hidden Wound, Wendell Berry laments the destruction that racism has and continues to do to the possibility of human flourishing in America. I would like to think that the 21st Century Freedom Ride as, at the very least, a soothing salve–a balm for America's soul. When a few friends invited me to journey to Birmingham with them, I was excited to be a part of re-visiting the Ground Zero of the Civil rights movement. As an educator, I was looking forward to museums, lectures, vigils, sermons, people, and passions that drove the great thrust toward freedom in our country's history. Thanks to those who organized the ride, we had the opportunity to sit at the feet of mentors who know and can help us understand how that particular movement also informs our work for a new kind of democracy today.
As I shared my toothpaste, snacks, blankets, and story, it was clear that this journey was not only a pilgrimage and retreat, but a necessary step towards realizing the ideals we spent our time discussing. Vincent Harding had us sing together and tell our stories, reminding us that sometimes the only way to bridge the barrier from head to heart is through acting, moving, and–in the case of a long bus ride–taking a seat next to the so-called other. While we were imagining the future, it was evident that everyone had a little bit different idea of what that could and should look like. I was struck as we sat there huddled close together over those days that perhaps something else was going on as we dreamed. In just a few short days it was clear that our eating, bus riding, listening, praying, speaking, and singing quickly became its own liturgy.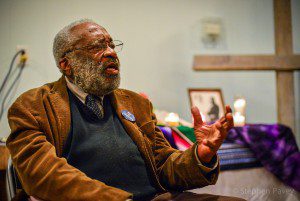 As the seasonal rhythms of ancient Christian traditions remind us that God became human and dwelt among us, Advent is a reminder that we celebrate embodied truth. That the divine entered into the world with skin is both a political and poetic reminder to focus on what is unseen. Dr. Vincent Harding began each of our sessions with a pedagogical method of nearness, telling us all to "come closer" so we could be seen, heard, and felt. His questions focused on story, history, and the desire for each person to be known. Some semblance of milk and honey flowed ever so slowly between the cracks separating the rich, poor, white, black, young, old, educated, undocumented, homeless, and famous in the room. The very act of collectively dreaming brought us all a few steps closer to the Dream that Martin Luther King Jr. was working toward when he was killed.
Just as the birth of Christ is the ultimate reconciliation of creator and created, this season is a reminder that another Way was intended, and that it will come about, in part, through the movement of the Children of God toward one another in community. Being with the 21st century freedom riders was a reminder that the Freedom Movement was more than just a group of courageous activists taking a stand. It was a stride towards more than equality, peace, justice, stability, and a better America. Whether your preferred term is the Kingdom of God, the Beloved Community, Heaven, or the Promised Land, I suspect that we are a bit closer to "it" because of our bus ride.
As Dr. Harding taught us to sing, "We are building up a new world. / Builders must be strong. / Courage, people, don't get weary, / though the way be long."