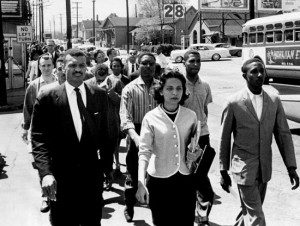 Fifty years ago, when America's Freedom Movement was challenging segregation in the South, black and white young people got on buses and rode South together to join the struggle. Their being together was itself a challenge to the system. Half a century later,  a diverse group of young people are about to get on the bus together again and travel from Durham, NC, to Birmingham, AL.
I'm delighted to be part of this journey.
School for Conversion is honored to be hosting this 21st Century Freedom Ride in partnership with Mary's House Catholic Worker, Alterna, One Horizon Foundation, Gravity, Georgia Undocumented Youth Alliance, and NAACP North Carolina.
Our 21st Century Freedom Riders are Native American, Afro-American, Latino and white. From diverse backgrounds, we have found our way into the centuries-old Freedom Movement via the contemporary struggles for prison reform, immigrant justice, community development, and the abolition of war, homelessness, and sex-trafficking.
Over the next week, as we make this journey together, I've invited several riders to share their stories here. As we continue to journey through Advent, I hope some of us can also share reflections on what learn from the journey. If you're in Durham, Atlanta, or Birmingham, we invite you to join us for the public events listed below.
Support the 21st Century Freedom Ride: Donate on PayPal
Schedule of Public Events
If you're able, please join Freedom Riders at these public events.
December 5
7pm–Mass Meeting on Racial Profiling in the Community and Our State
St. John's Missionary Baptist Church
917 Onslow St
Durham, NC 27705
The mass-incarceration of our black and Latino neighbors is a community concern for everyone in Durham, North Carolina. Walltown Neighborhood Ministries has partnered with NC NAACP President William Barber and NCCU Law Professor Irving Joyner to hold a mass meeting to address community-based approaches to public safety and crime reduction that overcome historic divisions and work toward restorative justice for all. We invite all concerned citizens of Durham to join us for this event, where we will also commission fifty 21st Century Freedom Riders to make a journey of solidarity through the South, learning how the Freedom Movement of the 1960's might inform our work for justice today.

December 6
2-4pm–Las Posadas in downtown Atlanta
The 21st Century Freedom Ride and Georgia's Undocumented Youth Alliance (GUYA) invite you to join us for a 2-mile walk to highlight immigration justice issues in our country today. Las Posadas is a Mexican tradition to remember the Holy Family who found no room in the inn when they traveled to Bethlehem before the first Christmas. At stops outside the Immigration and Customs Enforcement (ICE) Atlanta field office, Atlanta City Detention Center, the Georgia State Capitol, Georgia State University, and the Martin Luther King, Jr. Center for Nonviolent Social Change, members of GUYA and others will testify about how they have heard from the institutions of our society that there is "no room in the inn." We invite all people concerned about justice in our democracy to join us for this walk of listening and bearing witness to the possibility of the country that we have not yet been.
When/Where: Meet up at 2pm outside the ICE Field Office, 180 Spring Street SW, Atlanta, GA

Walk Route: http://goo.gl/maps/ZRrt6
Closing Gathering: 4pm outside the King Center, 449 Auburn Avenue Northeast, Atlanta, GA

December 7
6pm–"America, You Must Be Born Again" retreat begins
Evening Program with Dr. Vincent Harding, Open to the Public
Walnut Grove United Methodist Church
1126 Wilkes Rd
Midfield, AL 35228
December 8
5pm–Vigil Against Violence
Sponsored by Birmingham Pax Christi and Mary House Catholic Worker
Five Points South, Birmingham