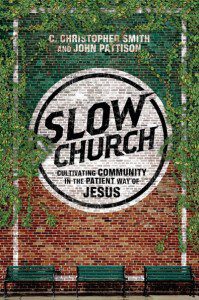 Not long ago I was talking with a journalist about religious movements and my hope for the future of faith in North America. "You know," I said, "the movement that grabs my attention is really pretty small—a dozen or so folks at its core, most of them not spectacular. Only one of them is published. A few of them used to have good reason to kill one another. But somehow they've stayed together. And this new life they've found with one another is so important to them that they are, to a person, willing to die for it."
A good reporter, ever eager for a good lead, this fellow asked where he could learn more about this movement. "Oh, it's well known," I said. "The best-selling book of all time has four accounts of its origins—Matthew, Mark, Luke, and John."
"Yes," he said matter-of-factly, "but where can I find this movement today.
That, it seems to me, is someone asking the right question.
Slow Church, a new book out this week, is not so ambitious as to claim that it holds the key to the future of the church in North America. But it seems to me that this is a book that's asking the right question. As its authors suggest, Slow Church is an invitation into the long, rich, deep and necessarily slow conversation about what it means to be part of the movement that Jesus started 2,000 years ago.
It is, in short, the sort of invitation you ought neither ignore nor turn down.
"Taste and see," the authors say, echoing the psalmist. Indeed. A banquet has been prepared for you. Pull up a seat. And, while you're at it, text your friend and tell her she's invited to. This is a conversation that only gets richer as new friends come one by one to enjoy.
There's much I like about this book. Its central metaphor of the welcome table echoes the God Movement from first century Eucharists down to 20th century lunch counters. I love the way John and Chris pay attention to what God is up to beyond the church in ways that build up the church. (
Slow Church
draws on the Slow Food Movement, as well as insights from asset-based community developers, poets, and social entrepreneurs.) And I'm just tickled by the delight of two amateurs in the truest sense—regular folk whose passion inspires them to reach far and wide for resources to guide a conversation about what it means to live faithfully in the way of Jesus.
But what I love most about Slow Church is the way this book talks about faith (and invites us to talk about it) with attention to the Word made flesh. There are some beautiful words in this book, which you will enjoy, no doubt. But rather than drawing our attention to their words, Chris and John help us to see dozens of communities where people like you and me are living into the ways of the Word made flesh.
Much of North American Christianity has celebrated the words of those who proclaim the gospel. But the Bible says, "How beautiful are the feet of those who proclaim good news."
Yes, their words are good. But here are two brothers with some beautiful feet. Listen to them. Talk back. But most of all, follow them as they follow Christ.
Learn more about Slow Church and its authors at the Patheos Book Club.