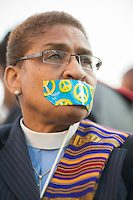 It's Moral Monday again here in North Carolina, where I'll be joining thousands who refuse to be silent while corporately funded extremists remake government to serve the interests of the few instead of the good of the whole.
That's why we are here. But the people who are leading us are what make me happy to be here. "The glory of God," one ancient church teacher said, "is the human fully alive."
I don't know many people more fully alive than the sisters and brothers who are breaking the silence at Moral Mondays. God is there in their collective action, so I keep coming to witness the glory.
Two weeks ago, at the NC NAACP's first Moral Monday of 2014, a silent procession made its way through the State House, tape over our mouths to dramatize the fact that a rules committee had me for the first time in a quarter century to silence the voices of North Carolinians who want to tell our legislators how policies developed by the American Legislative Exchange Council are hurting real people.
On the Tuesday following last week's Memorial Day holiday, hundreds came back on a work day for face-to-face meetings we had first requested six weeks earlier. When Speaker of the House (and ALEC board member) Thom Tillis refused to meet with people who are dying because of his stubborn refusal to allow Medicaid expansion, the "Tillis 15" said they would wait until he could meet with them.
They were arrested at 2am the next morning.
If Speaker Tillis had been willing to take 10 minutes to hear from these people he claims to represent, he would have heard something like this:
I don't know if their testimonies would speak to Tillis the same way they speak to me. Maybe his commitment to small government is greater than his capacity to hear a sister's pain.
Maybe he has hardened his heart. For his sake, I pray he hasn't.
But I know there are thousands who've not hardened their hearts. There is an extended family of black, white, and brown, rich and poor, gay and straight, Republican, Democrat and unaffiliated sisters and brothers who will gather in Raleigh this evening to follow the lead of the courageous "Tillis 15" and break the silence that is betrayal.
However long it takes, our voices will be heard. And the humanity that arises from us in the process, reflecting something of God's glory, just might spark a revival of true worship in the land.