Someone asked me recently where I would like to be in 20 years. I was a bit caught off guard and waited for awhile before answering the question. Sure, I've casually thought about my goals and dreams for my future, and I make it a personal habit to set yearly goals for myself. (One of my goals for this year was to have four articles published. I'm three-fourths of the way there! Check out my articles here, here and here.) As easy as it is to work towards yearly goals, I don't often think about my goals for the distant future.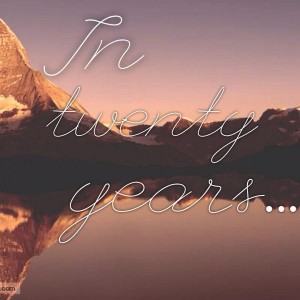 One of the reasons I seldom make quantitative goals for the long-term is because I know how much my desires, goals and dreams have changed in the past five years, and I can't even begin to imagine how much changing and growing I'll be doing in the next twenty years. To answer my friend's question, I said that I would like to:
-Publish a book
-Get married to the love of my life
-Adopt at least one child (preferably more)
-Write and speak on topics close to my heart
While there are definitely things I want to accomplish personally and professionally, I prefer to cast vision as to what kind of woman I'll be in twenty years. Life ebbs and flows, there are mountaintops and depths of valleys, circumstances constantly change, and people will waltz in and our of your life. Through all of life, what matters the most is your relationship with the Lord. My deep passion is that above where I choose to live, who I choose to marry, the things I choose to do and not to do in my career, how I raise my kids, etc., is that I'll be a woman completely and totally in love with my Savior all the days of my life.
The following quote has been one that I've been thinking about a lot recently.
Godly womanhood … the very phrase sounds strange in our ears. We never hear it now. We hear about every other type of women: beautiful women, smart women, sophisticated women, career women, talented women, divorced women. But so seldom do we hear of a godly woman – or of a godly man either, for that matter.The world has enough women who know how to be smart. It needs women who are willing to be simple. The world has enough women who know how to be brilliant. It needs some who will be brave. The world has enough women who are popular. It needs more who are pure. We need women, and men, too, who would rather be morally right than socially correct." – Peter Marshall
So, who do I want to be in twenty years?
A Godly Woman.