I stumbled across Jon Griffith music one day while I was browsing NoiseTrade.
If you haven't heard of NoiseTrade, your missing out. NoiseTrade is a website where you can download free music from up and coming artists. Some of my favorite artists have been discovered on NoiseTrade. When you download the music, you have an option of donating money to the artists and/or promoting them on social media. It's awesome!
Anyways, Jon Griffith has a song called, "Song for My Future Wife", and being the hopeless romantic that I am, was smitten with the song. I contacted Jon and asked if he'd be willing to do an interview. He graciously said yes, and I'm excited to share his story and his music with you.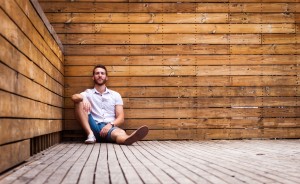 Tell us about yourself:
My name is Jon Griffith. I'm the campus director for Called To Greatness, a campus ministry, at Kansas State University in the Little Apple – Manhattan, KS! I love working with college students and even more, I love engaging them with the Gospel and seeing their lives completely transformed by Jesus Christ. It's such an adventure!
I'm a pastor's kid. In middle school, I moved with my family to Leavenworth, Kansas to start a church. In high school, I was the super shy kid that thought I might die if I opened my mouth. I had a few mentors through high school and college that really helped me overcome the fear of what other people thought about me and now you can't shut me up! I really love engaging with new people and discovering their stories and how they tick!
Why did you decide to get involved in music/song writing?
My whole family's always been pretty musical. I played piano as a kid, but just like everyone else… I hated it and stopped as soon as possible! Luckily, I picked up the drums in middle school and then guitar in high school and music became a huge passion of mine. My brothers and I would come home from school and jam for hours, learning the most difficult songs we could at the time. It was a competition, really. Who could learn the most difficult guitar part or drum part?
It wasn't until I graduated from college that I began writing songs. I remember walking on campus, as a brand new campus minister, and praying, "God, if you want me to write songs, let's do this." And it was crazy, but immediately I just felt a flood of ideas, melodies, themes and the like streaming through my mind. I was still on campus, so I just pulled out my phone to record everything I could so I wouldn't forget them all. I ran home and turned it into four or five songs. It's been a pretty continuous stream since then. I'm not in love with all of it, of course, but it always helps me grow and refine my craft as a songwriter.
How long have you been playing/performing?
Being a musically inclined pastor's kid meant that I was involved in the worship team from day one. I began playing the drums at church in 8th grade! Looking back, I have to laugh and pity the rest of the team that had to deal with an 8th grader! Haha.
In college, I was in a pseudo-band that really only covered songs for our university's Battle of the Bands every year. But performing was so much fun. We would goof off and jump around, playing Story of the Year, The Wedding, or Family Force 5, then slow it down with some John Mayer. We had a blast!
At the same time, I led worship at my church all through college. I'm currently in a different city than where I went to college and I love that I still have the opportunity to lead our community in worship each week.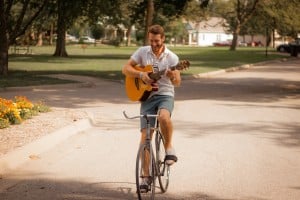 What inspires you when you're writing songs?
I want to write songs about all of life because I think God cares and wants to be involved in all of life, not just with Sunday mornings or church music. So, I'm inspired by things that happen all around me: difficult situations, strong emotions I'm feeling or watching others experience; I'm continually inspired by other songwriters, especially guys like Jon Foreman, Ed Sheeran, Chris Martin; movies, my friends and family; anything and everything can inspire.
I think a consistent theme in the songs that I write is sounding a call for something greater. I want people to feel something when they listen to my music, but more than that I want to paint such a picture of the world – the brokenness, pain, joy, hope – that people feel like they have what it takes to step outside their worlds to do something about it. I want to help people step into the adventure they were born for.
How does your relationship with God affect your music?
I may have jumped the gun on this question. Haha. My relationship with God affects everything in my life and music is a big part of my life. Because I want to write songs about everything around me, and because I want God to be a part of everything around me, naturally, God has a part in the songs I write about that. I do think you'll be surprised at how non-religious my music feels. At least, that's my hope.
If you could tell your generation one thing, what would it be?
God wants to do something huge with your life! He wants to change the world more than you do! My generation, as well as the generations following us, I think sees religion and is turned off. But if we can see that this is about much more than which set of ideas you subscribe to, whether you're liberal or conservative, a-religious or too religious, to see that there is a very real God who sees your situation and not only wants to get you through your situation, but wants to help you to be a catalyst for restoration in our communities, cities, and nations, I think we will all be better off.