I want to be a Godly, faithful, committed woman. I want to be controlled by the Spirit alone, not controlled by money, food, social media, the opinions of others, etc. I want to be a woman who loves the Lord with all my heart, mind and soul. I want to exude Christ's love and joy.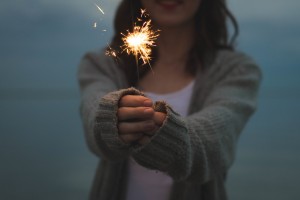 I want to use my time well, not being glued to my phone, searching for praise and affection from social media. I want to use my time pouring myself out for the kingdom and for others. I want to be a thoughtful woman, creatively thinking of ways to love and bless others. I want to be a generous woman – generous with my words, time and money. I want to be a disciplined woman sticking to something, doing hard and glorious things, seeking the fruit of self-control.
I want to be known as a woman who makes people a priority. I want to make every person I talk to feel like the most important person in the world. Putting down by phone and listening intentionally. Asking questions. Making eye contact. Considering them as better than myself. I want people's souls to always be the most important thing, and I want to spend my days pouring myself out for God's glory. I want to show up for people. I want to love extravagantly.
I want to stop striving for perfection. Realizing that I can't ever live up to my own definition of perfection. I'm called to obey the Lord , and rest in the knowledge that the results are in His hands.

I want to be a woman of my word. When I commit to something, I want to honor my word. I want my yes to be yes and my no to be no. 
I want my life to impact and influence others for God's kingdom. I want to speak on matters dear to my heart and the Father's heart. When I die, I want to know that my life mattered for so much more than myself. I want the words and actions of my life to leave a lasting mark on eternity for God's glory and the good of others.
The fact that I am a woman does not make me a different kind of Christian, but the fact that I am a Christian makes me a different kind of woman.  Elisabeth Elliot