When I interviewed Mike Weaver, from Big Daddy Weave I felt like I was catching up with an old friend; his warmth and passion for the Lord captivated the listener. Big Daddy Weave is set to release their seventh studio album, Beautiful Offerings on September 18th.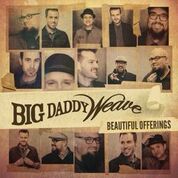 Can you tell me a little bit about the new album?
MW: It's been four years since we released our last album, Love Come To Life. God did so much with our last album, including four consecutive No. 1 singles from the album. The real treasure of the last album was hearing all the stories of the song Redeemed. The song spent 11 weeks at No. 1, was dubbed "Song of the Year" at the first annual K-LOVE Fan Awards and garnered Dove Award and Billboard Music Award nominations. More than any of the accolades the band has achieved, it's the stories of how the songs have impacted the lives of others that keeps us going. No one in Big Daddy Weave is impressed with Big Daddy Weave, if there's any good that comes from our music, it's all because of God. Our new album picks up where the last album stopped.
How is 

Beautiful Offerings

 

a complement to your previous album

?
MW: Many people we were encountering were saying, "Thank God, I am redeemed," but then going right back into their sin. We wanted to bring light on that with Beautiful Offerings. We're not only redeemed from sin, and redeemed to something. That "something" is to allow our lives to be an offering to God. It's not about who we're not, it's about who we are. It's a realization that because we're children of God, our entire life becomes an offering to God, by the way we live.
"Every trial, and greatest gain. Every failure and darkest stain. Every moment, of all these years. I give it all to you. Make me a beautiful offering to you.

….Your love changes everything. I am a beautiful offering."
What Would You Tell The Next Generation?
MW: God loves you so much, and He invites you into an intimate relationship with Him. It's not simply about a book knowledge of God, but about getting to know Him on a deep and personal level. People are hungry for their deepest needs to be met, and I want the next generation to know that they can experience ultimate peace, joy, love and healing in a relationship with God.
Big Daddy Weave has been through their share of sufferings, what encouragement do you have for people going through trials?
MW: I think it's important to remember the words of Jesus in John 16:33, "In the world you will have tribulation. But take heart; I have overcome the world." Jesus was right, we will have tribulation, but our greatest hope is that Christ has overcome the world. As believers, we have the same power that raised Jesus from the dead living inside of us. In the middle of my troubles, I cry out, "God, help me!", and then thank Him for His provision. I think it's so important to cry out for God's help, but remember to thank Him for His presence and deliverance in our lives.
You can pre-order Beautiful Offerings 

here

.