Under the moniker Owl City, Adam Young has taken the opposite trajectory of many music artists in that his music has become more explicitly faith-centered. We first saw this in the song "Meteor Showers" on his breakout album Ocean Eyes, then in the song "Galaxies" on All Things Bright and Beautiful, then a little bit in several tracks on The Midsummer Station. Now with the release of his latest album, Mobile Orchestra this summer, he has become even more overt about his faith with several tracks that sound tailor-made for Christian radio.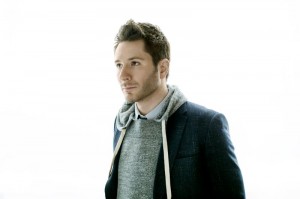 There's a decidedly Christian joy that characterizes his music. It has a lightheartedness, purity, and beauty that captures the fairytale happiness of the faith that C.S. Lewis and G.K. Chesterton spoke of. Consider the album title "All Things Bright and Beautiful" – it comes from the title of an Anglican hymn. You see this in some of his unreleased recordings as well. He has a touching piano cover of In Christ Alone, and a delightful rendition of How Deep the Father's Love for Us. He did the song "Here's Hope" for the Child Hunger Ends Here campaign. On his blog, he gets very open about this faith, writing about John Piper's Desiring God, for example, as well as posting an audio excerpt from Piper and quoting him. At the same time, however, Young has found plenty of mainstream appeal in the pop music world. "Fireflies" was a huge hit and catapulted Young to national prominence. His hit single "Good Time," a collaboration with Carly Rae Jepsen of "Call Me Maybe" fame, also saw heavy radio play and became a pop music staple in the summer of 2013. He's written songs for a number of animated films, including The Legend of the Guardians (a movie, appropriately, about owls), Wreck it Ralph, The Croods, and The Smurfs 2. It seems, then, that he has found a way to succeed as a Christian in the secular limelight, and not in a more subtle way like bands such as U2 or Switchfoot, whose faith undergirds their songs without being preachy. Young, in contrast, is as unabashedly Christian as it comes in his new song "My Everything"
"My everything, is my attempt at summing up how important my faith is to me, and certainly how much it influences not just the decisions I make creatively as an artist, but every area of my life, across the board.
My hope with this song is that it serves as an encouragement to people who might be feeling spiritually weary or tired."
It's not hard to see how his music has such a broad appeal, as it's remarkably fun and full of feel-good tunes. Even though Mobile Orchestra features My Everything and a collaboration with Contemporary Christian Music artist Britt Nicole, it also includes collaborations with mainstream artist like Jake Owen, Aloe Blacc, and Hanson. While Adam Young has successfully carved out a musical niche, his accomplishments haven't seemed to affect him. His self-professed awkward and shy personality endears him to audiences and makes Adam one of the most likeable artists in the industry. Unfortunately authenticity is not a prized quality in much of mainstream media today; yet Adam is a breath of fresh air combining his faith, his quirky personality, and his musical talents, making him one of the most unique and sought after artists in the industry.
Buy Mobile Orchestra

here

.