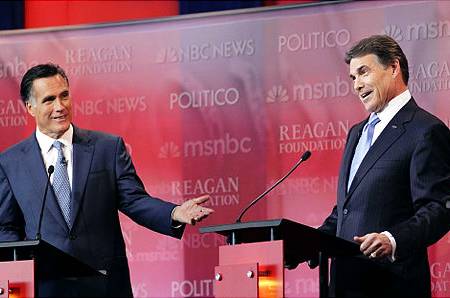 As GOP candidates battle for the presidential nomination, Rick Perry (R-Texas) and his camp have attacked the Mormon faith of Mitt Romney (R-MASS).
If Mitt Romney were running for president of the Southern Baptist Convention I could understand why his faith traditions would be an issue. But since he's running for president of the U.S., which upholds a separation of Church & State, a core value of the GOP, I'm a bit befuddled as to why Perry's pastor, Dr. Robert Jeffress, of First Baptist Dallas, felt the need to denounce Romney based upon his Mormon faith.
So I asked my buddy Kim Puzey to dialogue with me here about his Mormon faith. I've known Kim for a very long time. Our children attended high school together.
We share a love of God, of family, of people and of writing.
Feel free to ask questions yourself. Not promising that either Kim or myself will have the answers you are seeking but we are happy to wrangle through the issues with you.
KAREN: How did you feel about the recent flap over Mitt Romney?
KIM: If by the recent events surrounding Mitt Romney, you mean those of Dr. Robert Jeffress, I was bored and embarrassed, the boredom stemming from one more addition to a very lengthy list of threadbare accusations made against Mormonism over the years, and embarrassment for Reverend Jeffress that he was the accuser. These responses both are related to the issues of religion.
On the political side of recent events it matters not at all to me what someone says about Mitt Romney as a candidate. If he wants to be president, he should expect to be scrutinized., but the Constitution precludes a religious test for elected officials. No religion should receive favor under the law, nor should a religious litmus test be required of those who seek elective office.
Those were my initial reactions.
I was especially embarrassed for Reverend Jeffress when he was interviewed by Anderson Cooper. I felt sympathy for those who look to him as their pastor. I didn't think he did his faith a service. He would not have almost persuaded me to be a Christian as Agrippa said of Paul.
When I think of the broader context of Mitt Romney's candidacy, I think of the difficulties for other members of The Church of Jesus Christ of Latter-Day Saints should he be elected. What about Speaker Harry Reid? What about the other Senators and Congressman, potential Cabinet Secretaries, Supreme Court Justices, Federal Judges, and so forth? None of these appointments or nominations could go as easily as they might under a president who was not a Mormon. Jon Huntsman would not likely have been called to serve as U.S. Ambassador to China, and so forth.
–
KAREN: Did you grow up in the Mormon household?
KIM: Yes.
My maternal and paternal lineage in the LDS Church goes back to pioneer days. Some of my ancestors knew Joseph Smith. Many were in the church under Brigham Young.
I grew up in Utah, served a two year mission, graduated with two degrees from Brigham Young University, and married a Mormon in the Great Salt Lake Temple 32 years ago. We have raised our children in the LDS Church and have lived outside of Utah for more than 30 years.
–
KAREN: How do you define salvation?
KIM: This is a bit of a challenge as you know. Paul wrote to the Ephesians that we are saved by grace, not works lest we boast, (Ephesians 2:8-9) whereas James reminded the early saints that faith without works was dead. (James 2:18)
A scripture from The Book of Mormon says this:
For we labor diligently to write, to persuade our children, and also our brethren, to believe in Christ, and to be reconciled to God; for we know that it is by bgrace that we are saved, after all we can do.
And we talk of Christ, we rejoice in Christ, we preach of Christ, we prophesy of Christ, and we write according to our prophecies, that our children may know to what source they may look for a remission of their sins. (2 Nephi 25:23, 26)
We also believe that in addition to faith, we must repent of our sins, be baptized and receive the gift of the Holy Ghost.
There is more, but I am not sure you are looking for a lengthy treatise. The aforementioned verses are representative of the doctrine, however.
–
KAREN: You and I have known each other for a very long time. You've always been very respectful of my faith tradition but I'm wondering, deep down do you think I'm lost or missing out on God's plan for my life?
–
KIM: We have thirteen Articles of Faith. The eleventh says: We claim the privilege of worshiping Almighty God according to the dictates of our own conscience, and allow all men the same privilege, let them worship how, where, or what they may.
There is also a passage in The Book of Mormon that says this:
1. O that I were an angel, and could have the wish of mine heart, that I might go forth and speak with the trump of God, with a voice to shake the earth, and cry repentance unto every people!
2 Yea, I would declare unto every soul, as with the voice of thunder, repentance and the plan of redemption, that they should repent and come unto our God, that there might not be more sorrow upon all the face of the earth.
3 But behold, I am a man, and do sin in my wish; for I ought to be content with the things which the Lord hath allotted unto me.
4 I ought not to harrow up in my desires the firm decree of a just God, for I know that he granteth unto men according to their desire, whether it be unto death or unto life; yea, I know that he allotteth unto men, yea, decreeth unto them decrees which are unalterable, according to their wills, whether they be unto salvation or unto destruction.5 Yea, and I know that good and evil have come before all men; he that knoweth not good from evil is blameless; but he that knoweth good and evil, to him it is given according to his desires, whether he desireth good or evil, life or death, joy or remorse of conscience.
6 Now, seeing that I know these things, why should I desire more than to perform the work to which I have been called?
7 Why should I desire that I were an angel, that I could speak unto all the ends of the earth?8 For behold, the Lord doth agrant unto ball nations, of their own nation and tongue, to teach his word, yea, in wisdom, all that he seeth fit that they should have; therefore we see that the Lord doth counsel in wisdom, according to that which is just and true.
9 I know that which the Lord hath commanded me, and I glory in it. I do not glory of myself, but I glory in that which the Lord hath commanded me; yea, and this is my glory, that perhaps I may be an instrument in the hands of God to bring some soul to repentance; and this is my joy.
10 And behold, when I see many of my brethren truly penitent, and coming to the Lord their God, then is my soul filled with joy; then do I remember what the Lord has done for me, yea, even that he hath heard my prayer; yea, then do I remember his merciful arm which he extended towards me. (Alma 29:1-10)
Karen, I'm certain the Lord knows you, loves you, knows the desires of your heart, and is ever working to draw you nearer to him. I trust that you will respond to him as you are willing and able and that you have done so to this point in your life. How he deals with his children is between him and them. How he deals with me is between us. If we both are true to the promptings we receive from the Holy Spirit or Holy Ghost, we will be led along to our Heavenly home.
–
KAREN: Why do you think our respective faith traditions have historically been at odds with each other?
KIM: I don't know enough about your faith tradition to know the answer to this question, so I will make an attempt at a general response from traditional Christendom.
We believe that when Jesus was on the earth he established his church by calling disciples to follow him. He chose the twelve apostles and later called the seventy. In time there were bishops, teachers, priests, deacons, and so forth.
These statements are two of our Articles of Faith:
We believe in the same organization that existed in the Primitive Church, namely, apostles, prophets, pastors, teachers, evangelists, and so forth.
We believe that a man must be called of God, by prophecy, and by the laying on of hands by those who are in authority, to preach the Gospel and administer in the ordinances thereof.
In addition we accept the following from the New Testament:
11 And he gave some, apostles; and some, prophets; and some, evangelists; and some, pastors and teachers;
12 For the perfecting of the saints, for the work of the ministry, for the edifying of the body of Christ:
13 Till we all come in the unity of the faith, and of the knowledge of the Son of God, unto a perfect man, unto the measure of the stature of the fulness of Christ:14 That we henceforth be no more children, tossed to and fro, and carried about with every wind of doctrine, by the sleight of men, and cunning craftiness, whereby they lie in wait to deceive. (Ephesians 4:11-14 KJV)
Some of the officers in the original church had callings to go into all the world, preaching the gospel. Others had roles that were more pastoral. Some officers were general in scope and others were more local in their responsibilities.
We believe that there was an orderly transfer of authority that went from Peter and the other apostles to the respective aforementioned officers according to need. We would cite the New Testament for all of this and I can provide references if you want them.
After the death of Jesus, we believe that he ministered to certain disciples in a forty day post-resurrection ministry culminating by him ascending into heaven with a promise that he would return in like manner. This was followed by the Pentecost and the expansion of the gospel from Judea, to Samaria, to all the world and so forth as described in the Acts of the Apostles.As persecution increased from both the Jewish and Roman sectors, martyrdom became commonplace and soon the apostles were killed.
The remaining officers and disciples strived to be faithful, struggled to keep heresy and schism from arising with and without the Church. We believe that there was a gradual decline in pure doctrine and a loss of proper priesthood authority.
I have been reading a delightful little book by Edgar J. Goodspeed entitled The Formation Of The New Testament. He was Professor of Biblical and Patristic Greek at the University of Chicago. In this book, he writes about how the Gospels of Matthew, Mark, Luke and John as well as the Acts, Pauline epistles, and other writings were gradually brought together, sorted, selected and so forth into our current New Testament. Although it was not the main focus of the book, it becomes clear that there were no leaders on par with the original apostles. There was brilliant scholarship, extraordinary human effort to cooperate and collaborate, faithful, prayerful, disciples doing the best they could, but to me there was a sharp absence of authoritative leadership such as that found in the days of Jesus of immediately thereafter.The Church met together. There were many Councils from Nicea going forward. I could recite the controversies and resolution of each Council, but so could you, but I will only mention the Great Schism of 1054 and the Council of Trent (1545-1563) where in the original Catholic (general) church was split, reformed from within and without and split again and again and again.
The body of Christ was in such a state that reformers from within and without sought to heal the divisions and traditions that had entered in over the centuries. These efforts were motivated by faith, righteousness and the love of God. I have the greatest respect for those who sought the internal and external reforms that were so sorely needed.If you fast forward to the Second Great Awakening in the northeastern United States, this is the world of Joseph Smith Jr. He admitted that he was confused at religion, sought wisdom through prayer and was answered in a vision that was the genesis of Mormonism.
He was met with opposition from Christian ministers in his neighborhood and spent the remainder of his life in the work to which he had been called.
There are a number of reasons that Mormonism may be at odds with Christendom and I'm not sure which seems to provoke the most ire.We believe that Joseph Smith was a living prophet on the same standing as Moses or Jeremiah or the ancients. This may be a provocation.
Because of the principle of continuing revelation, we provoke those who believe in a closed canon of scripture. This may be a provocation.
We do not share the same traditions nor decisions from the historic Councils including the creeds and so forth. This may be a provocation. Otherwise, I am at a loss to know the nature of the conflicts.