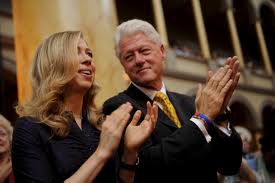 So while I was busy wrapping up the manuscript for my upcoming novel — MOTHER OF RAIN — the National Father's Day Council named former president Bill Clinton Father of the Year.
Really?
Father of the Year?
The Huffington Post reports: National Father's Day Committee chairman Dan Orwig commended the politician and philanthropist for his "profound generosity, leadership and tireless dedication to both his public office and many philanthropic organizations."
Shouldn't they just have named Bill Clinton Giver of the Year?
Or, in his former era, Philanderer of the Year?
How does his charitable work qualify him for Father of the Year? The man is loaded. He can afford to give his money away. Shoot if making a butt-load of money is the qualification for becoming Father of the Year, shouldn't Bernie Madoff make the cut?
Listen, I like Bill Clinton much better now that he isn't president than I did when he was. He's always been a very congenial fellow. I'm sure I'd enjoy hanging out with him much more than I would hanging out with the more cerebral Obama. Clinton is a natural storyteller. He's probably got as many good stories to tell as Rick Bragg or Sonny Brewer. I like a man who can entertain a crowd.
Still.
There is nothing, not one thing, that makes me think Bill Clinton actually earned the title Father of the Year.
He cheated on his daughter's mama with a woman who wasn't all that much older than his daughter.
Yes, I think it's admirable and right of Chelsea to forgive her daddy, and even more so of Hillary to forgive him, given the way he disgraced the entire nation for a little whoo-whoo.
Still.
It's not like Clinton has raised up five kids and scraped by to make a living while serving as coach of an AAU team during his free time.
He made money. Gave some of it away. (But he kept enough back to throw his only child an estimated $3 million wedding.)
He also defamed the Oval Office, humiliated his family, and nearly ruined That Woman in the Blue Dress.
Indeed, it seems, Clinton has made significant changes in his lifestyle. That may be more due to aging than anything else, but it hardly warrants the title of Father of the Year.
Who do you think would be a better candidate?