What is our responsibility?
It's a question we all face, day-to-day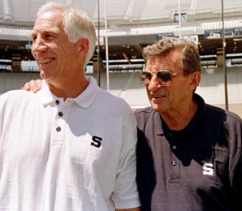 We ask it most often this way — what am I obligated to do?
Legally. Ethically. Morally.  Spiritually
Breaking it down this way gives us more escape hatches.
I might feel spiritually that I ought to take some action, but if the law doesn't require me to, then I can dismiss the move of the Spirit by deferring to the law of the land.
I suppose that may be one of the ways Joe Paterno rationalized his failure to take further actions toward Coach Sandusky. A troubling investigation, if the facts are true, reports that Sandusky was using his job to rape boys.
The report says that in 2002 a grad student and his father witnessed Coach Sandusky raping a 10-year-old boy in the showers. They reported it to Paterno, who then passed it along to his boss. And up the ranks it went, until, well …  nothing…
Until the headlines broke.
Meanwhile, Sandusky was still using his position as coach to sexually molest boys.
If these allegations are true, and it appears they are, then Sandusky is a sick soul. Pedophilia is usually considered a non-rehabilitative sort of illness. Pedophiles need constant supervision throughout their lives, lest they re-offend.
Certainly Paterno knows that. He works at one of the top universities in the nation, for goodness sake. Surely, he's studied something besides tight-ends and backfields in motion.
His official word on the matter is that he's upset about all this.
"Sue and I have devoted our lives to helping young people reach their potential. The fact that someone we thought we knew might have harmed young people to this extent is deeply troubling. If this is true we were all fooled, along with scores of professionals trained in such things, and we grieve for the victims and their families. They are in our prayers."
The problem with this surely heartfelt remark is that children who are being abused need more than our prayers, they need us to protect them.
Paterno failed to do that.
And in 2002, Kelly said, a graduate assistant saw Sandusky sexually assault a naked boy, estimated to be about 10 years old, in a team locker room shower. The grad student and his father reported what he saw to Paterno, who immediately told Curley, prosecutors said.
Paterno, in fact, failed to do much  of anything.
As my grand jury testimony stated, I was informed in 2002 by an assistant coach that he had witnessed an incident in the shower of our locker room facility. It was obvious that the witness was distraught over what he saw, but he at no time related to me the very specific actions contained in the Grand Jury report. Regardless, it was clear that the witness saw something inappropriate involving Mr. Sandusky. As Coach Sandusky was retired from our coaching staff at that time, I referred the matter to university administrators.
Lemme see if I've got this right. Nine years ago, a grad assistance and his father came to Paterno,  and said, "Hey PA, I saw Coach Sandusky assaulting a 10-year-old in the shower today."  The assistant was visibly upset. He was angry. He was so mad he was near tears. But Paterno was, what? Too busy to deal with his own staff? Too focused on some game to say, What do you mean by assaulting a kid? Was Coach Sandusky hitting him? Or do you mean he was bent over him? Sit down, son and tell me what you saw."
Paterno wants to have it both ways. He wants us to believe he was fuzzy on the details. Paterno says it was clear the grad assistant saw something inappropriate, but Paterno says he didn't know the details of the assault.
Bullshit.
Total Bullshit.
The truth of the matter is Paterno didn't want to deal with it. He didn't even do what he's required to do by law as an employee of a university and that's to file an official report to authorities if he had even a "suspicion" that a child was being abused. And Paterno clearly had more than suspicion. He had an eye-witness.
OH. WAIT!!  It appears that Penn. Law is different. News reports on Tuesday say that Paterno met his LEGAL obligation. Apparently, Paterno, as a member of a state university is NOT a Mandatory Reporter. By Penn Law, Paterno did what was required of him. So says…
State police Commissioner Frank Noonan said that although Paterno may have met his legal requirement to report suspected abuse by Sandusky, "somebody has to question about what I would consider the moral requirements for a human being that knows of sexual things that are taking place with a child."
He added: "I think you have the moral responsibility, anyone. Not whether you're a football coach or a university president or the guy sweeping the building. I think you have a moral responsibility to call us."
Pennsylvania might want to revisit their laws for mandatory reporting. Moral responsibility went the way of church attendance.
Children trust us to protect them.
Joe Paterno has failed miserably.
One of the most telling of all his comments was that line "As Coach Sandusky was retired from our coaching staff at the time…"
The person Paterno ought to be praying for is himself.
He lost his soul somewhere in the muck-and-mire of shucking off his responsibility.