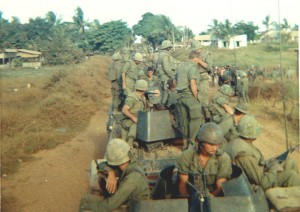 If it is true what they say about the ways in which we are connected to one another — only about 4 degrees of separation — I'm hoping you can help me track down somebody.
In 1966 when my father's body was returned from Vietnam to the states, he was escorted by a SFC Willie R. Huff. I only know of SFC Huff because I have the telegram my mother received telling her when my father's body would be arriving. I wrote about SFC Huff in my book After the Flag has been Folded. I wrote everything I knew about him on page 31 & 32 of the book.
On Thanksgiving I received an email from someone looking for SFC Willie R. Huff. I can't go into all the details of their association because they've asked that I be discreet. But they did ask that I alert you, the readers of this blog, and ask for your help. They've been looking for SFC Willie R. Huff for several years now, and have come up against all sorts of obstacles.
What I can tell you is that in 1967, SFC Willie  (William) R. Huff accompanied another body home, this one to Willmar, MN. This was apparently his assignment between 1966 and 1967. Huff is a white man who, at that time, went by the name Bill Huff. (Willie & Bill being abbreviations for William. I used the name listed in the telegram Mama received.) In 1967 he was in his early 30s & the father to at least one son.
He was definitely Army. He was attached to the 6th US Army Escort Unit out of San Francisco.
My father was with the 25th Infantry Division, 2/9th.
Please feel free to make any suggestions you have here on the blog. Others are reading and looking for help.
Thanks so much.
I have a hunch that with your help we'll be able to put Bill Huff in touch with someone very special very soon.