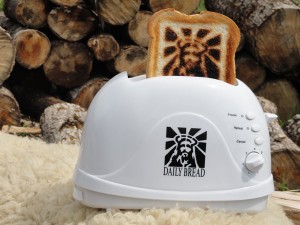 You'd think by now I'd be accustomed to the way that consumers can corrupt Christianity but then, again, I've always been a slow-learner.
I'm pretty sure this isn't what the Bible means by Daily Bread but Burnt Impressions is less concerned with the ethics behind hawking Jesus, and far more interested in making dough.
For $32 bucks and shipping charges you can have one of these nifty Jesus toasters.
Or if Mother Mary is more to your taste, you can get one of those too.
There's even a Pot-toaster for the more pagan-types on your shopping list.
Or for the more politically-minded there's one that leaves an impression of Obama.
But Jesus is by far the most popular.
Good to know the Jesus brand still carries monetary clout, isn't it?