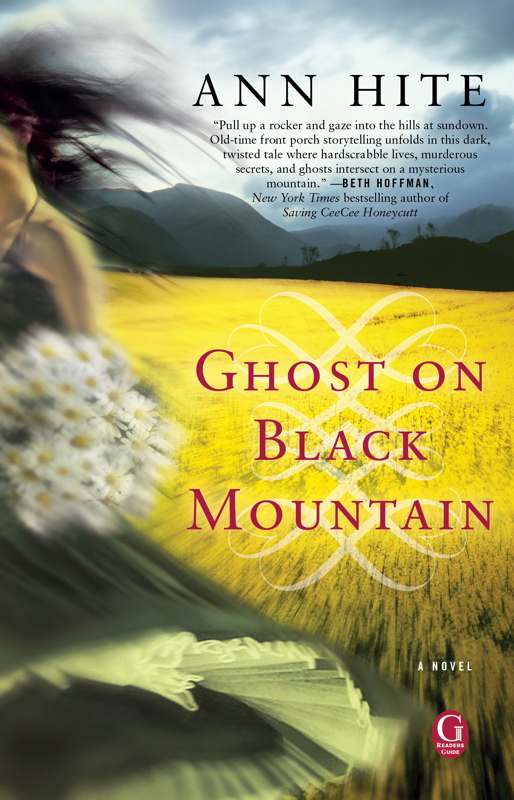 Anyone who has ever been to the Southeast Independent Trade Show knows it's not just about the books. It's about the people and the laughter and those moments when those in attendance get to swap their own stories with one another. During a late night reading in the trade show in Charleston, Karen Spears Zacharias had the pleasure of visiting with debut novelist Ann Hite, author of GHOST ON BLACK MOUNTAIN. Listen in as these two Georgia girls continue the discussion they began that night:
KAREN: Where did you grow up?
ANN: I began life—sounds like a bad novel—in Macon, Georgia. My father was in the Air Force. We moved to Newport News, Virginia when I was nine months old and stayed until I was four. Then we were off to Germany, close to Frankfort. I was ten when I came home to live in Atlanta with my grandmother and got to know my eccentric extended family. Every Sunday we got in Granny's baby blue Oldsmobile and headed for rural North Georgia, where we visited my great aunts and the crowd of grown cousins. If I was quiet, they would forget I was sitting in the corner and tell the good stories about haints, murder, and conjuring spells. Black Mountain was born during these visits.
KAREN: What was your first job?
ANN: At sixteen I went to work for the local Dairy Queen at the front counter, where I failed grandly. I had a hard time making the little signature curl on the ice cream cone, so I was soon asked to leave. My first 'real' job was working for BP Oil, where I was a Technical Specialist.  Did you spend that job thinking up stories? I worked for several engineers, who left me to my own means. Those means were writing short stories in between projects. What would become the Black Mountain stories were written in this manner.
KAREN: What intimidates you about writing?
ANN: The first time I sit down with an idea. I always worry is this wasted time? Have I lost my talent? Am I some kind of fool to think I can write? I wish I could say this has changed with publication of my novel, but it hasn't. I still have these questions rapid fire through my mind before I dig in and let the words come. What thrills you? I'm a blank page writer. This means I rarely know what will happen to my characters before it shows up on the page. I love finding out the story as if I'm the reader. This keeps me coming back to my desk each day. But it also makes for more rewrites. It's a good thing I love the process of rewriting.
KAREN: GHOST ON BLACK MOUNTAIN is very character-driven with an ensemble of evocative female voices. Was building an ensemble intentional from the outset or did this happen organically?
ANN: It began as a short story, so when I decided to turn it into a novel, I saw Nellie as the one and only voice. Then Rose marched through my head with the story about her mother attempting to sell her. I had to allow her on the page. Iona showed up in one of my dreams. What can I say? When Gallery offered me a book deal, Ghost had three female voices. Then my wonderful editor made two comments: "I'd like to hear from Nellie's mother (Josie Clay). I can't get enough of Shelly Parker". Josie and Shelly were written into the book only a bit before publication. And Ta Da the ensemble came together.
KAREN: Nellie Pritchard, the teenager attracted to Trouble in a pick-up truck, embodies every mother's worst fear for her daughter, doesn't she?
ANN: I love that description "Trouble in a pick-up truck"! Yes Nellie's attraction is every mother's nightmare. I have four daughters. Three are grown. I addressed the fears every mother has for her daughters. My fears stemmed not from my daughters' actions but from my own choices as a teenager.  And those are stories best left for other books.
KAREN: You do such a great job of capturing the stark loneliness that many young women feel when they realize they've traded the comforts of a mother's love for that an angry, unpredictable man. How difficult was it for you emotionally to write Nellie's story?
ANN: Nellie came quite naturally to me, as if she were an old friend I hadn't seen in years. Her choices were especially tough for me to accept. On some days I just refused to write another sentence because I was afraid of her next move. My husband will tell you he feels he knows Nellie because of my angst at the dinner table. I spent a lot of time crawling in Nellie's head. My exploration of Nellie took me to places and times in my own life that were painful and lonely. But how many women haven't chosen the wrong guys in their lives? I think this is what makes Nellie so forgivable. But there were times I wondered what readers would think when they met Nellie on the page. After all, she's my child and I love her warts and all.
KAREN: Nellie spends a lot of time alone, which seems a risky move from a plot standpoint. It was just Nellie and the ghosts, most of the time. Some less adventuresome souls might argue that watching a woman come unhinged is about as tedious as watching paint dry. Yet, brave writer that you are, you were able to make a quiet afternoon of splitting wood completely unnerving. How'd you do that?
ANN: Crawling into Nellie's head could be a very unnerving place. I knew that if readers were going to love and understand Nellie's choices, or at the very least forgive her, they had to see her internal life. This was a risk, a big one from a writer attempting to get her first book published, but I once read something John Gardner said that has stayed with me. It went something like this: You have to know the rules to break the rules. And then once you break them, the work becomes art. I don't sit down to create art—I think that's something that organically evolves—but I always sit down to weave the best story in me. This accounts for a lot of my risk-taking. So, I kept a journal in Nellie's POV. But was I a lot of fun to be around during this time.
KAREN: First we get Nellie's story, then we get her Mama Josie's story, and eventually her daughter's. But why did you think it was important to include in the mix the story of Rose Gardner, mistress to Nellie's husband?
ANN: Rose, in many ways, is the opposite of Nellie. Her mother thought of selling her for a thousand dollars. She's big boned where Nellie is thin. She's practical and street smart. Her view of Nellie as the intruder gives us a peek into her heart. But most importantly she gives the reader a different look at Nellie's husband. Rose is the balance of this novel. Her love is not blind nor is it buried in denial. She is the heartbeat of the book. Don't you think?
KAREN: The relationships of the humans in GHOSTS ON BLACK MOUNTAIN are far more haunting than any of the haints. What tricks did you employ to help you interweave all these stories together?
ANN: I spend a lot of time writing in long hand before I move to the computer. This allows me to access different emotions. The women in GHOST ON BLACK MOUNTAIN told their story to me many times. If my gut didn't feel right about a certain scene, I'd take to the character. I know this sounds crazy but I'd write a question down and wait. Sometimes I'd take a walk. Always the character would answer. In the early writing of Nellie's part, I was very dissatisfied with her reactions to certain events. She informed me I had made her entirely too whiny. She needed to be alone more in the house. But mostly the interweaving of the stories came naturally. I would finish one part and the next character would step up. Even when I added Josie Clay and Shelly Parker into the novel, I instinctively knew where these parts fit in the book.
KAREN: Do you have a favorite character? If so, who and why?
ANN: I love all my characters but I would have to say I love Shelly to the very core. She's by far the bravest character I've ever written. She can see and talk to spirits, not because she seeks them but because they find her. Her situation is more than tolerated. She is proactive and strong. Maybe it's her youth, but I have a feeling she grows up to make a real difference on Black Mountain.
KAREN: Is there any of Ann Hite in any of these women?
ANN: I think that all my women reflect some part of me. In Nellie it's her determination to survive no matter what. In Josie it's the mother's love for her daughter. In Rose, it's the girl who doesn't quite fit her mother's expectations. But Iona is closet to me. I was raised by two very strong women. So strong they outshined any males in my life.
KAREN: You've created such a tight community of people. Any chance readers will be revisiting this community in future stories?
ANN: The second novel in the Ghost Mountain series sits with my editor as I write. This book tells the story of Shelly Parker. And that's all I can tell you.
KAREN: Tell us about a typical writing day for you.
ANN: There is nothing typical about my writing days. When all my kids were home and I had a day job, I would fantasize about an office with a door that I could close and write away. Finally everyone left home except for my youngest daughter. I turned one of the empty bedrooms into the office of my dreams. I went down to work that morning and thought I would just die. I took my laptop and went back to the desk in my bedroom. I've been writing there ever since. Each morning I get up with the idea of sitting straight down to write, but it never works out like this. I answer emails, phone calls, and get up fifty times for one reason or another. This goes on for an hour until I finally put a stop to the whole mess and get to work. I am so used to having time restraints because of family or day job I can't seem to write now when the hours are free. I write my best when everyone is home talking and laughing. I know. It's what I've grown used to. I always write every day. If I don't, I am miserable.
KAREN: Who is the first person you told when you signed your first publishing contract?
ANN: I called my husband at work and then had to wait for him to return my call. Luckily he called back within five minutes. If he hadn't I would have popped wide open. He has always been my biggest fan. He has believed in me when only one other person believed. This other person—a dear friend—was the second person I called.
KAREN: Any advice to would-be novelists?
ANN: There are plenty of how-to books on craft. My advice is to use your God-given talent in a way that gives Him glory. Nothing, nothing will ever stop you if you do.