Back in my reporting days, I convinced the editors to let me write a feature story about bowling from the ball's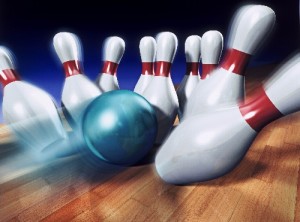 perspective — as if I was interviewing the ball.
For the record, I don't bowl.
I don't even know how to keep score bowling.
And besides bowling balls don't talk.
It wasn't easy trying to get a newspaper editor to let me write what was basically a creative short story. Still, readers loved it and I had fun.
I was reminded of that story this week as I watched the news coverage of the GOP primary in VA. Did you see the CNN staff trying to keep track of all the GOP's social ranking?
According to CNN Ron Paul leads the Twitter poll. Meaning, I think, that more people talk about Paul than vote for him.
The take away from that I guess is that everyone wants to bowl with Paul but he's never going to win a presidential election.
Listen, I don't know how you feel but I don't care who has the highest social media ranking among the GOP candidates.
That's like keeping track of who knocks over the most bowling pins. I just want to elect somebody who can keep this country out of the gutters.
Really, CNN?
Social Media Rankings versus Social Issues policymaking?
Way to murk up the waters.
It used to be rare that journalists got the opportunity to exercise their creatives sides. There is a reason they call it the news, after all.
Now it seems like 85 percent of what's been reported is made-up nonsense.
If this trend continues, we are all doomed for the gutters.