Editor's note: Today is Mama's birthday. I thought I'd take this opportunity to share with you one of my favorite stories about her from my memoir After the Flag has been Folded. The book was re-titled when it was put in paperback. In its hardback form the book is called HERO MAMA, which pretty much sums up how I feel about my mother. Happy Birthday, Mama.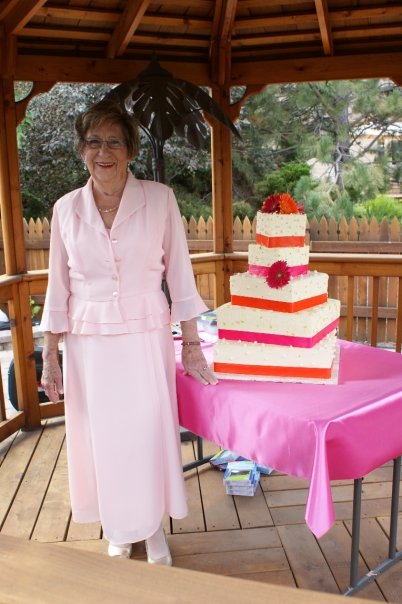 Excerpt/After the Flag has been Folded
Uncle James drove Uncle Woody and Mama in his car to Knoxville to meet Daddy's casket. We stayed with Granny Leona. Mama had a car, an old Corvair we had shipped from Hawaii. Frankie and Mama had gone to Virginia to pick it up the week before Daddy died.
Mama wrote this account of that trip on July 24, the same day Daddy was struck by a mortar round that would leave him bleeding to death in a country half a world away:
Dear Darling,
… Frankie and I got the bus and went to Norfolk after the car. We rode all night Thursday and got there Friday, picked up the car and started right back. I think we were in Norfolk for one hour and were on our way out. I was scared to death to start driving out of there but we made it just fine and didn't even miss the road one time. We were so tired and sleepy but we didn't have enough money to get a room and it was so hot we couldn't sleep in the car. We came to Rogersville and I wonder really how we did it. We drove 490 miles and stopped three times. We made it in 10 hours and coming through the mountains in Virginia that was really a good time. We bought $6.44 worth of gas and didn't use any oil … One time the car quit and wouldn't start and some men pushed it to a service station for us. They cleaned the battery cable, which was all corroded, and it never give us any more trouble. That noise and the shaking got worse. I'll have to see what is causing that. I was driving through Virginia and keeping up with all the big fine cars. They sure give me some looks when I would pass them. Just like "that damn car won't run like that." Frankie and I came on in and we were so tired we couldn't rest and still feel beat and awful.
I left the girls with your Mom and went after them last night. I have promised them I would take them to Dale's house today to go swimming if they would be good and they sure didn't forget it. I am going to take them over in awhile and they are planning to get that ugly bulldog. I'll probably have to run the kids and that dog off. They are tickled to death about that ugly thing and how can I tell Dale they can't have it? He thinks he is doing something great for them and I guess to the kids it is wonderful, but I can look at that dog and get scared myself. Darling, write to me for I sure need those letters. I am going to get ready and go over to Dale's for awhile. I'll be thinking of you and wishing you were here.
Yours forever,
Shelby
Mama's tears still stain the pages of this letter that my father never received. I can't help but wonder: If she was scared to drive a car through the mountains of Virginia all by herself, how did she ever muster up the courage to face a lifelong journey all alone?