By Shelby Dee
St. Valentine's Day is one holiday that people love to hate. I have friends who wear black each February 14. Others, single and married, refuse to celebrate a holiday that purely commercial. I don't point out that commercialism doesn't stop them from buying gifts at Christmas. I agree with my friends who say that we should be treating people kindly and with love all 365 days of the year. But that doesn't stop me from wearing red and hanging a giant pink wreath on my front door. I'm on a mission to change the way we think about Valentine's Day. Instead of asking, "How loved am I," this day should be one on which we ask ourselves, "How can I show love to others?"
In the past I've gotten manicures with girlfriends and baked pies for neighbors. This year, I've made a choice to give a gift that goes beyond February 14. I've made a decision to sponsor a survivor of sex trafficking through Project Every Girl. I've been to Cambodia. I've seen the work of Transitions and the way they are transforming lives.
Millions are being exploited by sex trafficking around the world. No life should ever be sold. The girls of Transitions had their lives stolen from them. But through the love and care they receive from Transitions their hope is being restored and they are beginning to dream big dreams. Through Project Every Girl you can sponsor a survivor. Your gift will help provide shelter, medical care, counseling, education, career training and more. Through sponsorship lives are changed.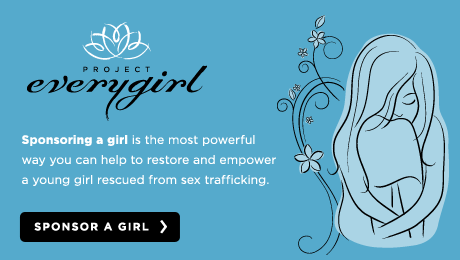 This Valentine's Day feel free to wear black and refuse to eat chocolates, but stop a minute and ask yourself how you can show love this year. Consider sponsoring a girl through Project Every Girl and have a Happy Valentine's Day.