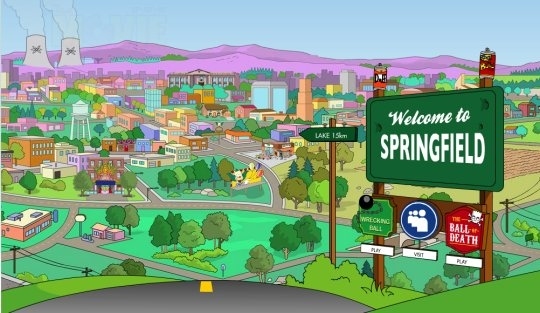 The girl with the gentle smile came up behind me, quietly, like a five-year old who knows not to interrupt when mommy is talking.
I'd just finished a talk at City Hall in Springfield, Oregon. Yes. The very home of Homer Simpson.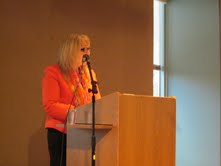 As far as I know none of the Simpsons were in the audience, although, I can't say for sure since I knew very few of the crowd by name.
Aaron Donley was there.
I met him first. He was loitering outside the City Hall meeting room, same as me, waiting for someone to come along and open the door. We were the first to arrive for the 11 a.m. meeting. I don't make a habit of being early, although I do make a habit of being friendly.
"Hi," I said, offering my hand, "I'm Karen Zacharias."
"Karen Zacharias?" he said, turning his head the way Poe does when he's trying to figure something confusing out.
"Yes," I said.
"I know you."
That didn't surprise me. The meeting had been well-reported. I was joining with Dave Ziegler, director (30 years) of Jasper Mountain, a family treatment center, and Greg Ahlijian, author of The Large Rock and The Little Yew, a children's story of hope and survival.
"I"m the author of A Silence of Mockingbirds, the Corvallis murder story," I offered, hoping that would help the fellow towering over me figure out how he knew my name.
"Karen Zacharias? Don't you write for Burnside Writers?" he asked.
Now I was the one cocking my head funny. "Well, yeah, sometimes," I said.
"I'm Aaron Donley," he said.
We laughed. Aaron and I've "known" each other through Burnside for years, the way bloggers do. In reality, we know nothing of each other. I don't know who his people are. He doesn't know who my people are. I don't know whether he's Baptist or Pentacostal or whether he thinks women ought to be ordained to preach or not. I had no idea he even lived in Homer Simpson's hometown. Come to think of it, he doesn't. He was just there to support his friend Greg, who he said was just a great, great fellow.
Later, when the doors were opened, and the crowd seated, Greg proved Aaron's comments true by donating $30,000 — the proceeds from the sales of his book — to Dave & Jasper Mountain.
Dave gave a talk about the evolution of child abuse, how he's seen it morph over his 30-years of service at Jasper Mountain. I marveled over how it is that anyone could find that much hope. I laughed with recognition as Dave recalled how people treat him at cocktail parties when he tells people that he's director of a center for abused children.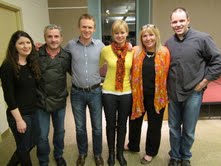 Nothing makes the public squirm more than the subject of abused children.
Just days earlier, I'd stopped in the ladies room prior to my presentation at the Benton County Library and overheard two women from a book club talk about how reticent they were to hear me speak. Those of you who know me best — in that cyberspace way — won't be surprised that I manage to bring humor into the readings from A Silence of Mockingbirds. You also won't be surprised to learn that I hid in that bathroom stall until those two ladies left because I didn't want them to be embarrassed by their comments when they learned that I'd been in that bathroom while they were making those comments. The things you learn in a ladies room.
Sometimes it feels like I'm on a movie set for The Hunger Games. All around me people are standing stock still, their faces expressionless, their wills subdued, as lottery numbers are drawn and children are led off to the slaughter. When people shake their heads and say, "Child abuse? I could never read about that." I want to grab them by the shoulders and tell them, "But you must. You must. We cannot put an end to that which we never acknowledge. The lives of children depend upon you."
Upon me.
Then I remember something an editor said to me once — Your weakness is just your strength cranked up a notch too high.
There's a wide yellow line between empowering people and bulldozing them.
And I breathe in deeply and relax, confident in the power of Karly's story, my ability to tell it and the Holy Spirit's quickening.
"Give people a desire to read this book," my brother-in-law prays over me before every talk I give. I jokingly told my sister Linda that I think God listens better to her husband than he does me because Greg is a fisherman. It wouldn't surprise me in the least to discover that God gives the prayers of fisherman preferential treatment.
"I don't know how you do that without crying," a lady said following my talk at Springfield City Hall.
Prayer.
That's how.
Forehead to the floor kind of praying.
Even the agnostics and atheists recognize that there is a demonic darkness to child abuse.
It's not avoidance of this subject we need – it's more prayer – and advocacy.
Any specific prayer requests that I could keep in my journal for you? That was the question one reader sent to me after finishing the book. That this particular reader works daily on behalf of abused children did not surprise me. It did, however, humble me, and left me weeping the way Jesus must have when Mary washed his feet.
The beauty of such sacrifices.
Like the girl who stood silently behind me as I spoke with all those people my fisherman brother-in-law had prayed over. Their eyes moist, they told me stories of abused children they know, family members they are concerned about, asked questions about how and when to intervene,  and told me how horrified and inspired they were by Karly's story.
When the books were all gone, I turned to the girl, standing silently. She pressed a crumpled-up dollar bill into my hand.
"For Karly," she said. "It's all I have but I want to do something."