For her debut book, Grace and Grit: My Fight for Equal Pay and Fairness at Goodyear and Beyond, Birmingham writer Lanier Scott Isom tackled one of the hardest tasks known to writers – penning someone else's memoir. If that wasn't a daunting enough task, consider writing the memoir of a historical figure still living – Lilly Ledbetter, the fireball behind the Fair Pay Act of 2009. Ledbetter sued Goodyear Tire & Rubber Co. for discrimination.
Here's what United States Supreme Court Justice Ruth Bader Ginsberg said about Lilly's case: "Lilly Ledbetter was a supervisor at Goodyear Tire and Rubber's plant in Gadsden, Alabama, from 1979 until her retirement in 1998. For most of those years, she worked as an area manager, a position largely occupied by men. Initially, Ledbetter's salary was in line with the salaries of men performing substantially similar work. Over time, however, her pay slipped in comparison to the pay of male area managers with equal or less seniority. By the end of 1997, Ledbetter was the only woman working as an area manager and the pay discrepancy between Ledbetter and her 15 male counterparts was stark: Ledbetter was paid $3,727 per month; the lowest paid male area manager received $4,286 per month, the highest paid, $5,236.[4] This pay disparity led to further inequity in her "overtime pay, contributory retirement, 401(k), and social security."
Join in as author Karen Spears Zacharias interviews Lanier Scott Isom, the author ofGrace and Grit: My Fight for Equal Pay and Fairness at Goodyear and Beyond.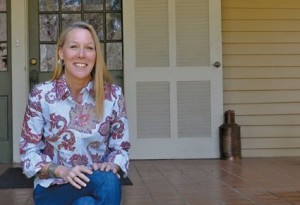 KAREN: How did you meet Lilly Ledbetter?
LANIER: I first met Lilly when I wrote a magazine profile on her in 2009, soon after President Obama signed the Lilly Ledbetter Fair Pay Restoration Act. The day I interviewed Jon Goldfarb, her attorney, he mentioned that a literary agent had been calling him trying to contact Lilly about her life story. I asked if they'd chosen a writer yet. He said he and Lilly had a few local writers in mind because they wanted an Alabama author to write the book. I told him before they made a final decision to throw my hat in the ring.
Turns out Lilly and I had a good rapport, she loved the article about her, and the next thing I knew, she asked me to write her story. Writing the memoir of an Alabama woman seeking social justice was a dream project for me to say the least.
KAREN: What did you know about Lilly Ledbetter's story before you met her?
LANIER: Only that President Obama's first piece of legislation was named after her.
KAREN: What did you fear most about writing her story?
LANIER: My greatest fear was not being able to capture Lilly's voice. Part of the process of finding her voice included telling her story of being harassed without making Lilly sound like she was always the victim, always whining. I knew if I didn't find Lilly's voice the project would not succeed. It's a scary proposition to invest years of your life in a work to have it fail. Especially, since I would be failing not only myself but also Lilly and her dream.
KAREN: What elements are critical for the author when writing someone else's story in first-person?
LANIER: Creative nonfiction requires as Anna Quindlen says, using "the eye of a reporter and the heart of a novelist." In other words, to weave a compelling narrative requires the journalistic skills of a reporter and the craft of a novelist. Once you have researched, interviewed, and fact checked, you have to wear your storytelling hat. It's time then to take the material you've gathered and give the story heart. But I struggled to get much emotion from Lilly. She, like many southern women, is not one to reveal her innermost thoughts very easily. As one of the "Greatest Generation" she also isn't one to complain; she just endures, and then, she acts. Over two years together, we spent countless hours talking, but one moment stands out in my mind: the moment when Lilly finally decided to open up and trust me, to show me a sense of vulnerability.
It was one winter afternoon when we'd been driving around Possum Trot, looking at her childhood home and her grandfather's farm. We'd stopped at the small family cemetery. Standing in the cold on her grandfather's grave, squinting her eyes as she looked across the cemetery to the bare trees scattered on the ridge, she mentioned as casually as if she were commenting on the chilly weather, "You know, Tot tried to kill my dog once, but Mama backed him down with a butcher knife." That's all she said. I didn't press. After that moment in the cemetery, I knew she felt comfortable talking honestly about the harsh challenges she endured throughout most of her life. That's how we worked from then on. She gave me a glimpse, a tiny glimmer, the actual facts of the matter as we continued our conversations over days and weeks and months. I then dug deep within myself to express her feeling about these experiences.
KAREN: You have done an overwhelming amount of research. What surprises did you come across in your research?
LANIER: How many legal documents a lawsuit generates. By the time Lilly went to court, the number of documents generated stacked as high as a three story building.
KAREN: Was it hard for you to imagine the dismissive ways in which Lily was treated by Goodyear given that you are much younger and have grown up in a generation where women CEOs are commonplace?
LANIER: I have to say I've experienced and seen enough discrimination myself not to be the least bit surprised by how Lilly was treated, so I wasn't shocked by the fact the harassment existed. What was shocking and almost unbelievable was the extent of the harassment Lilly endured, how long she endured it, and the fact the sexism was so deeply entrenched in the work culture during the two decades she worked at Goodyear. I also have to say that women CEOs aren't commonplace enough. Huge gains have been made for women, but we can't take the rights we've won for granted, and more work has to be done. Specifically, in reference to Lilly's story, the passage of the Fair Pay Act
KAREN: What do you admire most about Lily?
LANIER: Her determination and unwavering belief in standing up for what is right.
KAREN: What stories did she tell you that ended up on the cutting room floor that you wish were in the book?
LANIER: I wish I could have included more about her relationship with her children and grandchildren. Those stories show a more well-rounded version of her life experiences.
KAREN: Southern women in particular seem to possess a certain mule-headedness. Why do you think that is?
LANIER: Because they've had to live with southern men. Dealing with the heat and humidity? No, really, because after the Civil War they had no choice but to rebuild a defeated household and that tenaciousness has filtered down through the generations.
KAREN: There are those who thought Lily should just forget about the injustices done to her. Do you have a message for those people?
LANIER: Most people do walk away from the injustices they experience, but I do not believe anyone ever forgets. You do have to choose your battles, and I understand why people look the other way when an injustice occurs because they need their paycheck to pay the mortgage and buy groceries. It wasn't within Lilly's constitution to live the rest of her life and go to her grave knowing she was mistreated. The message I have for these people is that what happened to Lilly is illegal.
KAREN: What are you working on next?
LANIER: I am seeking a publisher for a young adult novel I've written about a high school track star and her Sandusky-like coach. I am also working on a novel about a Southern socialite and a book about a mother/daughter relationship and the impact the mother's alternative lifestyle has on the daughter.