Editor's note: I'm traveling this week — Springfield City Hall @ 11 a.m. on Monday and Albany Public Library @ 6:30 p.m. on Tuesday and at Echo Sno-Road Winery on Friday, 5 p.m. book signing, 6 p.m. reading. You can get more information about when I'll be in your area by clicking on the Tour Schedule link above. I hope you'll join me somewhere on tour, and bring friends. Meanwhile, we have a guest post from one of my personal favorites, Renea Winchester, author of In the Garden with Billy. You will, no doubt, love Renea as much as Billy and me.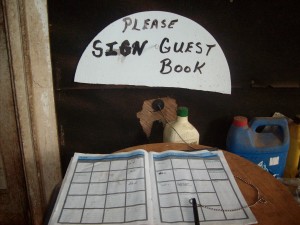 By Renea Winchester
Recently I lost a dear friend. Ora Coleman lived on a glorious piece of property that, on the outside, could use a lot of repair. Empty plastic pots lined the drive. Summertime weeds invoked images of snakes waiting to strike. His home was incomplete, partially bricked around the bottom third of the structure, yet somehow captivating. Decades ago, Mr. Coleman, a master carpenter, loaned the scaffolding necessary to complete his brick-laying job to someone with a more pressing need. Friends do that…loan tools, shovel manure, pick flowers and make sure you carry them home in a blue coffee can.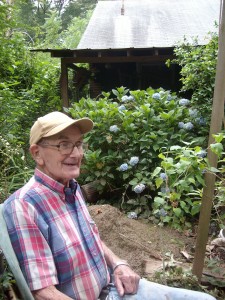 Upon noticing the meandering piles of brick waiting for mortar, visitors offered to complete the home. Mr. Coleman, believing the borrower would locate his integrity and return the equipment, refused all offers of help.
Saying that, "any day now, he'll bring it back and I can finish the job," friends and family could only cross their arms and watch the years fall away from the calendar posted outside his door.
This calendar revealed a staggering number of friends. Visitors knew to sign in before knocking upon the door. Literally, pick up a pencil, scratch their name upon the wrinkled paper, and wait as Mr. Coleman clipped his dog Smartie to a lead that was dangerous enough to trip a mule and long enough to reach the woods that flanked the house.
Mr. Coleman had many gifts: that of animals, the ability to grow absolutely everything and a relationship with God I long to emulate. Walking throughout his property, Mr. Coleman pointed to a particularly beautiful shrub. I would ooh and aah and then-without fail- he punctuated my sentiments with "Gawd, yeah!"
Upon first hearing this exclamation, I was heartbroken. I wrongly believed he was using the Lord's name in vain. As our friendship matured, I realized that as we strolled through his property God was there too, adding his comments in a whispered voice only Mr. Coleman could hear. Upon recognizing the small-still voice, Mr. Coleman's frail body filled with the spirit. He did a little jig before exclaiming, "Gawd, yeah!"
He was agreeing, with his whole heart, to what God had whispered in his ear.
Mr. Coleman praised God at every opportunity. Stepping outside, he opened his arms wide, reached to the heavens and said, "Isn't it beautiful? All God's creatures… isn't it beautiful, today what He has made?"
If you were tiptoe quiet, you could witness this praise first hand.
"Did you know that the Lord searches the earth for people who have given themselves completely to him?"
He smiled and waited for my response.
"It's in the bible," he volunteered then quickly added, "in the book of Chronicles."
Now that Mr. Coleman is in the presence of his creator, I wonder, why don't I hear God as loudly as he did? Has God overlooked me because I am too busy to give myself completely to him? These are the things I ponder while longing for the strolls of yesterday; moments that pierced the heart and challenged the soul.
Oh how I miss having a friend who never left the presence of God.
Renea Winchester is the author of In the Garden with Billy: Lessons about Life, Love and Tomatoes. Learn more about her at www.reneawinchester.com