Shelf Awareness

A Silence of Mockingbirds: The Memoir of a Murder
by Karen Spears Zacharias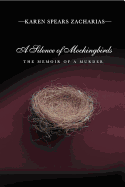 In the era of Nancy Grace, calling for vengeance for the murder of children has become a kind of pornography. But the literary merits of A Silence of Mockingbirds, a memoir by former crime reporter Karen Spears Zacharias, outweigh any prurient interest, and the art with which she carefully reconstructs events leading up to a senseless, painful tragedy is reminiscent of In Cold Blood in its power.
In 2005, three-year-old Karly Sheehan was beaten to death in Corvallis, Ore., by her mother's boyfriend, who was subsequently jailed after a high-profile trial. Both Karly's father and her daycare provider had noticed suspicious physical signs and behavior leading up to the little girl's death, but a sloppy inquiry by the state left Karly in harm's way. Zacharias, a foster mother of sorts to Karly's mother, is admittedly biased here, but her reaction to the overwhelming atrocity is the awakening of a pure reportorial instinct to ferret out every detail in order to bring out the truth. In doing so, Zacharias employs a sure sense of pace and description that enables this heartbreaking, never-salacious memoir to read like a thriller.
Zacharias intends A Silence of Mockingbirds as a call to action, a "never again" plea. Indeed, Karly's case has inspired legislation designed to strengthen abuse investigations. But Zacharias has, perhaps unwittingly, created something else. For if the point of art is to touch, to affect, to say something profound about the human condition, than A Silence of Mockingbirds is more than a rallying cry; it is a work of art.–Cherie Ann Parker, freelance journalist and book critic
Discover:
A reported memoir that reinforces the power of storytelling in the wake of human tragedy.
#
This review was posted on Shelf Awareness yesterday. I don't know the reviewer, didn't even know Shelf Awareness was reviewing the book.
Ever since the review went public, I've been ponder the line about the power of storytelling the wake of human tragedy.
I think that's why when Katrina hit, I tuned into Anderson Cooper so much. Cooper has a way of reporting that captured the stories of human tragedy. This was particularly so on his reporting of Katrina and of Haiti.
Story is how I process tragedy
And the silly. *(See Siri post).
That great Mississippi writer Eudora Welty said: "Long before I wrote stories, I listened for stories. Listening for them is something more acute than listening to them. I suppose it's an early form of participation in what goes on. Listening children know stories are there. When their elders sit and begin, children are just waiting and hoping for one to come out, like a mouse from its hole."
That was so true of me. As a child, I loved hearing my mama and daddy talking in the next room. When Daddy went to Vietnam he would send reel-to-reels home. He would talk to us a bit then tell us to leave the room so he could talk to mama. I would go out the back door, and press my ear up against the kitchen wall, where Mama was listening to her own special message from Daddy. I could never make out what he said but just the sound of him was reassuring.
The first thing I want to know when I met somebody new is their story. A woman at a book event on Sunday was so overcome by her own story it came out in spurts, like a child driving a go-cart for the first time. Reving the engine then killing it. Starting over again and again. I just wanted to hug her and say, Honey, it's okay. Take your time with the telling of this story.
So what about you? Has storytelling ever helped you in the wake of a human tragedy?