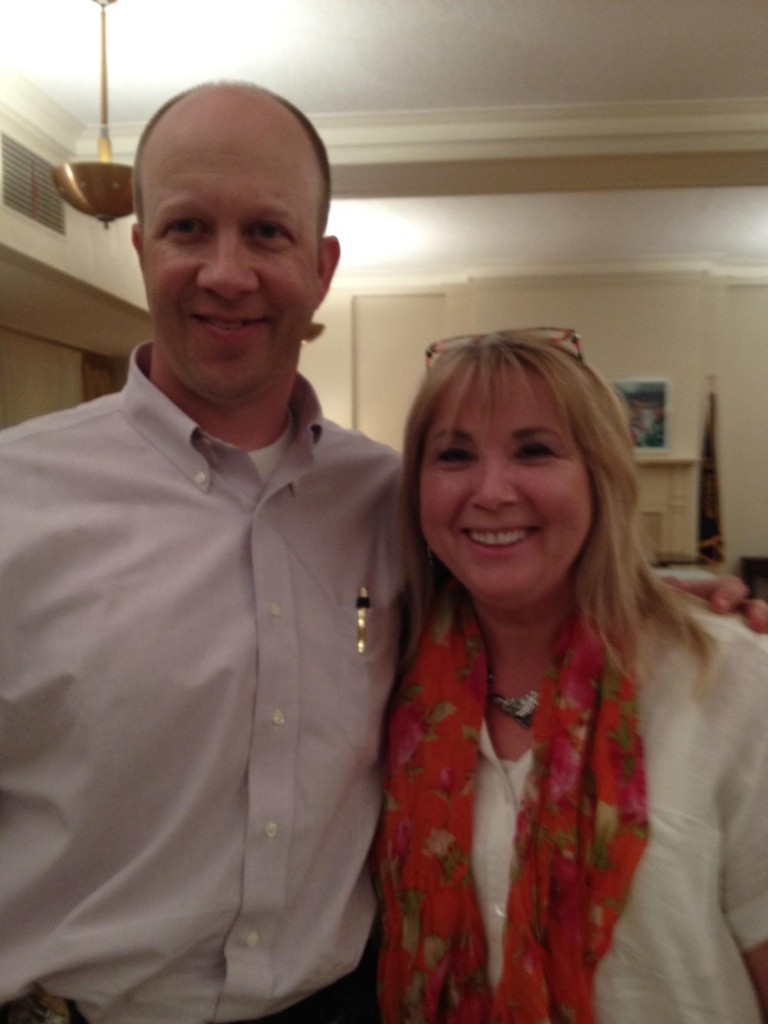 Chief of Police Stuart Roberts and I at last night's presentation on child abuse in Pendleton, which included Bryan Clark of Guardian Center (affiliate of the National Children's Alliance) and Linda Olsen and Joyce Turner from Children's Protective Services. Olsen, district supervisor for the region noted that one-hundred and eighty-nine children were confirmed for abuse in Umatilla County last year. That is an entire elementary school. An entire graduating class from Hermiston or Pendleton.
Twenty-two children died of abuse in Oregon in 2010. That's an entire elementary classroom.
We are failing children, Olsen acknowledged.
When state budgets are cut, the easiest cuts to make are to children.
Following the presentation, a woman told me that she had received a message from a young girl who had been placed in foster care. Unaware that the woman knew me, the young girl told her that she just had to read A Silence of Mockingbirds.
"This is the first book I've ever read on my own because I wanted to read it," the teen said."Not because somebody told me I had too."
The state calls its agency Children's Protective Services but its mission is bifurcated: To strength the family while protecting children from substantial risk.
It is designed to fail.
Nationwide eighty percent of all child abuse is perpetuated by biological parents.
That's right. Their very own flesh and blood.
Yet, Children's Protective Services is bound by mandate to do everything in its power to strengthen that family.
So when abuse is found, be it neglect, or outright violence, that parent has two years to turn it around before the state even begins to seek to terminate their rights.
Are you shaking your head and asking why?
Here's why: Money.
Funding.
If that child is made a ward of the state, the state become financially responsible for that child.
The state would rather pay the lawsuits that result from the abject violent death of a child than to be financially responsible for the number of children who for safety's sake need to be taken away from their biological parents.
Children are dying because Congress think it's more important to protect our shores than it is to protect those who live in our neighborhoods.
While we've carried on two mind-numbing wars for the past 10 years, losing solider after soldier, four times as many children have died right here in America as a result of child abuse.
Eighty percent of those children were ages 4 and under.
Law enforcement officials who study the trends tell us that crime is down all across this nation — thefts, murders, rapes — all trending down with the exception of Familial violence. It's trending up.
Domestic abuse.
Child abuse.
Listen, I know some of you are reluctant to read a book about a child's death. You are afraid that it's gruesome — it's not. I don't do gruesome. But it is full of factual information. Perhaps you are like Herb, who bought the book, and then said, "I'm not sure I can read it. It might make me emotional."
If I write a book about child abuse that doesn't make you weep, that doesn't make you angry, that doesn't make you write every elected official you know demanding that we do better by children, then, buddy, I need to quit writing. (For the record, not one elected official bothered to attend last's night presentation. Umatilla County voters might want to begin their letters by asking their elected officials why they weren't there..)
If I write the book about a child's murder that leaves you apathetic, I have failed miserably at my job as a writer.
I want you to weep.
I want you to get stinking mad.
Most of all I want you to care enough to start raising hell over this issue.
Children in your very own neighborhoods are going to bed praying and pleading with God to rescue them from the nightmare that is their daily existence.
God wants nothing more than to rescue that child, all those children praying for angels to protect them, but in order to do that, God needs our help.
He needs an army of flesh-and-blood foot soldiers, who will not rest until children are safe.
Men and women like Chief of Police Stuart Roberts, like Guardian Center Director Bryan Clark, people who are single-minded in their purpose of protecting children.