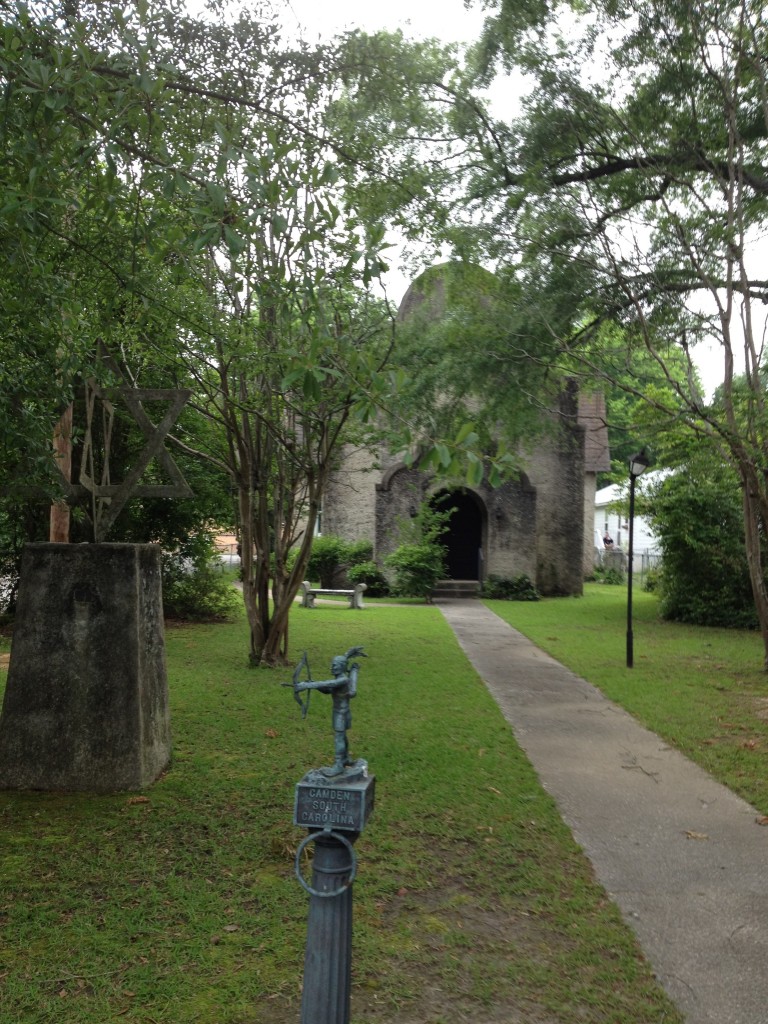 Her boy was 14 when he was killed in an accident.
He grabbed for a gun that his friend was showing him.
"We didn't have guns in our house," she says. "But he was always fascinated by guns."
He asked his friend to let him hold it. Then he reached for the gun. It discharged and the bullet went through his eye, killing him instantly.
She told me that, calmly, without shedding any tears.
It's been a long time now, she says, but, still, it feels like yesterday.
***
I noticed her tears during the reading.
Odd, I thought, this story of Karly usually elicits laughter, and nods of recognition.
Afterwards, the woman walked across the room and took me by the hand. Then she led me to a  mural on the wall of the Child Abuse Center.
"This is him," she said, pointing to the handsome man painted into the country scene.
Beaten over the head with an axe that he handed himself to the man who did the killing.
"When you read that part about the jellybeans?"
Yes.
"He had a  toy just like that. Several, in fact. He loved them."
Had the killer just asked for his help, the dead man would have gladly give him the thousands of dollars in the till, she said.
But the killer never asked.
Instead, he whacked him and took the change that was in his pocket. Hardly anything at all.
"I have stories to tell, yet," she said.
***
He beat her mama and the kids nearly everyday.
This stepfather of hers.
You could tell when he was going to do the beating, she said. He would twist his left forearm with his right and and then run that same hand through his hair over and over again, like he was winding up for the pitch that would knock them flat.
Her brother took the brunt of the abuse.
It's been decades now.
She cries still.
***
She was 10 when they brought her in for an interview.
She thought they were a nice bunch of people.
"Y'all talked to me first," she said.
Made her feel like she mattered for something more than what her body could produce.
She was 10 and pregnant with her father's babe.
***
She can't get pregnant.
Not yet anyway.
And it hurts when all around you your girlfriends are taking to Facebook or Twitter announcing their bundles of joy are on the way.
Or when you read about the ways in which others abuse children that you would give anything to love.
Like the girl last week. The four-year old who had two broken arms and a broken leg. Her parents, the ones doing the abusing, had made her walk into the ER on that broken leg, and act like nothing had ever happened.
And because children are tougher than adults, she did it. Marched right into that Emergency Room on that broken leg.
She's only four but she's already learned one of life's worst lessons — sometimes the people you love most will betray you the worst.
And the woman who longs to get pregnant tries hard not to be angry but it's hard when you realize the number of people who treat children like disposable products, as if they can be replaced when they are used up or broken.
***
There are a lot of broken people in the world.
It would be easy to despair for them.
To imagine that nothing you say or do is going to make one lick of difference.
But that's a lie.
And here's the truth:
WHY is too often a frustrating question.
Sometimes the question we need to be asking is WHAT.
WHY can lead us down a rabbit trail.
A dark hole that shuts us off from others.
WHY isn't a wrong question. It's just an unproductive one.
Let's face it, if God himself came and stood before us and told us WHY, would it be good enough an answer?
Would it make the 10-year old any safer?
Would it help the grieving mother let go of the boy she lost way too early?
Would it resurrect the murdered victim?
Maybe that's why God is quiet when we suffer the most. Maybe he's waiting on us to realize that not even GOD has an answer for all our WHYS.
But he does have answers for all of our WHATs.
When we come to him and ask,  as the mother of the dead boy did, now WHAT?
What, dear God, do I do to help a 10-year old who is pregnant by her father?
What, dear God, do I do with this memory of murder that haunts me, day in, day out?
What, dear God, do I do with the disappointments, and great griefs of my life?
When we ask What
What now
What next
God always answers.