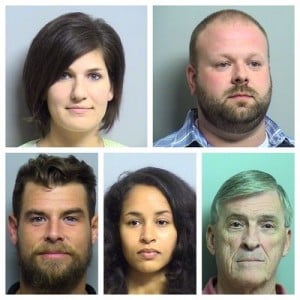 Suppose you were the person a distraught girl sought out to report that a youth minister had raped her in the stairwell right before church services. Suppose that young girl was only 13. Suppose you were on staff at that Mega-church. What comfort would you have offered that child? What action might you have taken to address the allegations? Would you have called local authorities immediately? Her parents?
Or would you have waited, as staff at Victory Christian Center of Tulsa, Oklahoma chose to do.
Police have arrested Chris Denman, 20, and charged him with raping a 13-year-old in the stairwell of Victory Christian Center, the 17,000-member Tulsa Mega Church run by Sharon Daugherty, whose daily broadcasts are beamed to more than 200 countries. Denman also faces charges of molesting another 15-year-old girl and making a lewd proposal and using a computer to commit a sex crime involving a 12-year-old girl. Daugherty, who knew about the abuse allegations, did nothing. She trusted her employees to handle it all.
Oh. Wait. I got that wrong.
She and her staff prayed for the victims.
What the staff didn't do for two weeks was report it to authorities, or to the young girl's mother.
They, like so many others, made the gargantuan mistake of assuming that they had to get all their facts straight before calling law enforcement. They did their own internal investigation first. Undoubtedly sought God's clear direction in the process.
What they failed to do was follow their own written procedures for mandatory reporting of child abuse.
Let me pause to rant here for a moment: That we, a country of grown adults, need a law to mandate that we report the abuse of a child just goes to show how messed up we are and helps explain why our child abuse rates have reached epidemic proportions. (*One Houston hospital reports that 38 percent of all their deaths in 2010 were the result of child abuse, more than cancer, more than heart attacks. Nearly forty percent of all their deaths hospital wide involved children tortured.) These mandatory reporting laws identify people who, if they suspect child abuse, are required to file an official report. People like pastors, and teachers, and coaches, and such.
Does that make any sense to you?
If you are an adult and you suspect a child is being abused, do you need a law to instruct you to file a report? Wouldn't your own conscious mandate it? Wouldn't your own concern for humanity demand it?
Apparently not.
The people at Victory Christian Center didn't call police. Instead they decided they'd handle it. Make sure the rape really happened, first.
Denman, by the way, isn't the only former employee of the church being charged. Israel Shalom (insert eye roll over that misnomer) Castillo, 23, was charged with making lewd comments to a child and using his computer to commit a sex crime.
Oh. Don't be so quick to judge. Following the investigation these good Christian people conducted themselves, the HR department at Victory did try to fix the problem: they fired Denman and Castillo before they called police.
The HR director, Sullivan, fired the two men Aug. 24, and then left a message with a member of the church who works with an anti-child trafficking organization to seek advice on whom to contact. Sullivan was advised to call police on Aug. 27. The ministry said Sullivan exchanged voicemails with an officer until Aug. 30, when they finally connected and the officer told Sullivan to dial 911, which he did that day.
"We deeply regret that our employees did not report these incidents to authorities within the proper amount of time. This failure within our organization weighs heavily on us, because our purpose is to help people and minister to their needs," the church said in the statement to AP. "Our internal response was unacceptable, and we are taking the proper steps to correct it."
Prosecutors have charged five church employees with failing to report the alleged assault according to mandatory reporting laws.
The employees involved were a high school outreach program director, an associate youth pastor, the director of the Human Resources department, and John and Charica Daugherty, (Sharon Daugherty's son and wife) who work at the church as Senior high youth pastor and assistant Senior high youth pastor. (As an aside: Why do mega-churches always hire the family members of their lead pastor to populate the staff?)
But Wait!
There's More!
Those good Christian people are upset. They insist they have been wrongly accused. Persecuted as it were. And they are fighting back!!
John Daugherty, and his wife, Charica, and their attorney are claiming that the mandatory reporting laws do not apply in this case and they want the prosecutor to drop the charges against them and their good Christian buddies.
The motion, filed Friday in Tulsa County District Court, states that state law defines child abuse as an act committed "by a person responsible for the child's health safety or welfare."
The document says that 20-year-old Chris Denman, who is charged with first-degree rape of the girl and other sex crimes, was not a church employee at the time of the Aug. 13 assault, was not responsible for the girl and cannot under state law be charged with child abuse.
State law "applies to a very specific event, abuse by a person responsible for the child's health, safety, or welfare," according to the motion. "The facts of this case do not meet" state law.
The motion filed by these good Christian people claims that Castillo and Denman were not employed by the church as youth ministers but rather as janitors. Thus, they were never by law responsible for the health, safety or welfare of children and had not committed child abuse. Moreover, lawyers noted Denman and Castillo have been charged with sex crimes, not child abuse. And since these two didn't actually get charged with child abuse, then the five people on staff who knew about the allegations did not fail in their obligation of mandatory reporting of child abuse, since no child abuse was ever committed.
Are we clear on that?
Apparently raping a child doesn't constitute child abuse under Oklahoma law. Or in the eyes of Victory Christian Center.
And that, good people, is how we parse the law in the Tulsa Mega-Church that collects millions from victims around the globe and bills itself as a place where all people are loved.
To read Karen's book on God & money, check out: Will Jesus Buy Me a Doublewide? 'cause I need more room for my plasma TV.
To read Karen's book on child abuse in America, check out: A Silence of Mockingbirds: The Memoir of a Murder.