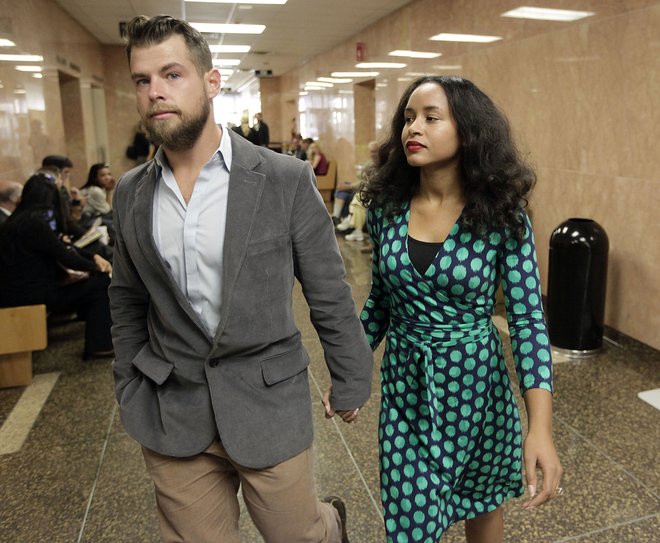 John & Charica Daugherty – Day in Court
Remember our story about the failure of the staff at Victory Christian Center in Tulsa, Oklahoma to report child abuse?
Well they were back in court this week.
Senior Pastor Sharon Daugherty's son and daughter-in-law,  John and Charica Daugherty, both youth ministers at Victory Christian Center, were charged along with three other church employees in September with failing to report child abuse.
But the Daughertys maintain that they did nothing wrong in failing to report child abuse to authorities, and their attorneys are seeking to have the charges dismissed.
Meanwhile, the 20-year-old employee of the church, Chris Denman pleaded guilty Monday to first-degree rape, forcible oral sodomy, lewd molestation, making a lewd proposal to a child, and two counts of using a computer (church computer) to facilitate a sex crime. In other words, Denman admits that he raped a 13-year-old at the church and committed other sex crimes involving a 15-year-old and a 12-year-old. His sentencing is scheduled for Dec. 12, the Tulsa World reports.
The Daughertys maintain that because Denman was a janitor, he was never responsible for the health or welfare of children, and he was not charged with child abuse, so they can't be charged with failing in their job as mandatory reporters of child abuse.
I'm still confused as to the Daughertys reasoning.
I know 10-year-olds with enough common sense to call 911 if they learn that a friend has been raped. How do grown people — youth pastors for goodness sakes — rationalize away such responsibility?
Of course that's the question that prosecutors are asking too. The Tulsa World reports:
The Victory Christian Center employees who are accused of failing to report allegations of sex crimes against children for more than two weeks had a legal obligation to do so, and any argument to the contrary "flies in the face of both common sense and common decency," prosecutors said.
Prosecutors maintain that the argument that the Daughertys had no responsibility under mandatory child abuse reporting laws because Denman was never charged with child abuse is ridiculous.
"At that moment in time, each adult who was employed by the Church and/or participating in or helping with the Youth Program became a temporary custodian to the minor girls," state prosecutor said. "The girls' parents had every reason to expect that their girls were being cared for."
A hearing on the matter is set for later in November.
Victory has placed a public statement link up on their website. Regarding the charges against Senior Pastor Sharon's son and his wife, Victory put up this statement in Sept.:
District Attorney Tim Harris filed charges today against five employees of Victory Christian Center for Failure to Report Abuse or Neglect of Child Under 18.
The employees involved were a high school outreach program director, an associate youth pastor, the director of the Human Resources department, and John and Charica Daugherty, who work at the church as sr. high youth pastor and assistant sr. high youth pastor.
Last Friday, in response to the delay in reporting the alleged rape, Victory Christian Center suspended three of these employees who were aware of the allegation, and did not report it in a timely manner in accordance with an internal policy on reporting suspected cases of abuse or neglect. The police investigation additionally determined that John and Charica both had some awareness of this incident. Because of this finding, the ministry has also suspended John and Charica in accordance with our disciplinary policies while we continue an internal investigation.
Again, we ask that your thoughts and prayers be with the victims and their families.
The Daugherty's attorney offered this to FOXNews:
"Exercising one's legal rights is not a legal technicality.  Any organization should support the fact that everyone is innocent until proven guilty. No one is denying a serious criminal offense was allegedly committed by Mr. Denman …  However, the actions taken by John and Charica Daugherty were not in violation of any Oklahoma Statutes."
The church has hired a Tulsa PR Firm to assist them with damage control.
In a Huffington Post oped, Kate Bowler, Assistant Professor of History of Christianity at Duke University, outlines how the American prosperity gospel plays into this deny, deny, deny response to responsibility:
In 2012, it is difficult to see how these questions of accountability have been thoughtfully adjudicated. One reason may be is that these organizations' trustees and church boards are often stuffed with friends and family members, making them far less willing to risk the consequences of whistleblowing, 
A quick look at the church payroll reveals that several relatives of Sharon Daugherty are employed by Victory Christian Center. It's always great when you can keep the wealth in the family.
That was working really well for Jan Crouch and her cronies at Trinity Broadcasting Network (which I write about in Will Jesus Buy Me a Doublewide?) until her granddaughter went public with documentation outlining the abuses, and charging TBN with illegal tax evasion.
Those darn whistleblowers!
Here you are just trying to live for Jesus and they have to go and mess everything up with their stories of rape and corruption.