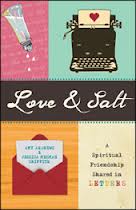 Writing, for me, is a form of praying.  I often think of John 1:1: In the beginning was the Word, and the Word was with God, and the Word was God.
In my office drawer is a folder filled with cards from people who have walked alongside me for a season. I can open any of those cards and recall the voice of that person and the experiences we shared, whether it be a friend from high school, a roommate from college, or an old lover. Oh. Wait. I think I burned all those. On my frig I have laminated a note from one of my daughters, written when she was eight or nine. She tells me all the things she is thankful for, including the joy of being my "dotter."
Letters from loved ones are some of my most treasured possessions. If at some point you sent me a letter and shared your heart with me, there's a good possibility that I still have that letter somewhere. 
I used to be an excellent letter writer. As a military kid, I started writing letters to Granny Leona as soon as I could string a sentence together. I think of those early scribbles as my training-wheels period for the writer I would become one day.
Imagine my delight then in discovering Love & Salt: A Spiritual Friendship Shared in Letters, by Amy Andrews and Jessica Mesman Griffith. (Loyola Press).
Theirs is not a life-long friendship, though I fully expect it will be given all that these two have shared. They met in 2005 at a creative writing workshop, drawn together by the Word, quite literally. Jess, leaving behind all things familiar in Louisiana, and Amy, searching for something deeper than her agnostic  upbringing. When Amy converts to Catholicism, she asks Jess to be her sponsor. Their friendship deepens and their letter-writing takes on that tone common to those of us who have read the exchanges between C.S. Lewis and Sheldon Vanauken.
Intimate missives about God and doubt.
Imploring questions about the mysteries of life and the certainty of death.
Much of the remarkable about this book can be attributed to the time at which these two begin their exchanges. A lot of life happens to them along the way– career shifts, marriage, and babies.
It is the letters exchanged in the days leading to and the notes from letters never sent following the stillborn birth of Amy's daughter, Clare, that echo the questions that Sheldon put to Lewis all those years ago.
"Daily Mass is not an obvious comfort. When I kneel there in the dark, all I can think of is her casket sitting on the low stool in front of that altar. And yet, every day I go back," 
Amy writes.
This act of going back should not be dismissed lightly. For it is this thing that speaks not to our doubts, but to our faith. That even in our deepest moments of despair, when all seems lost, we cling to a routine that while not exactly comforting, it at least brings us to our knees.
"Faith does not erase suffering but it changes it," Amy writes later. "It  is like the difference you would imagine between lying on your deathbed alone or lying on your deathbed with someone you love holding your hand… It makes all the difference in the world to die one way than the other." 
Jess often writes of her own mother, who died when Jess was a young girl. So, even here, between Jess and Amy we see the Poet God at work again –forging friendships between the motherless daughter and the daughterless mother.
I laughed out loud at Jess's comments after she read through the Collected Works of Flannery O'Connor, one of my own personal favorites: It's blasphemy for a Catholic writer to say so, but I'm relieved to be done with O'Connor. 
Jess called reading O'Connor a "grinding chore."
"Sometimes, we do need an O'Connor to shake us awake. But we can't remain forever in that heightened state. We'd all be lunatics." 
I don't know about O'Connor but it is most certainly true that without a good friend to help us along our way, we would all be lunatics.
I'm giving away a copy of Love & Salt. Leave me a note below telling me whose friendship has helped build your faith and I'll enter your name into the drawing for this stirring read.