"I sustain myself with the love of family."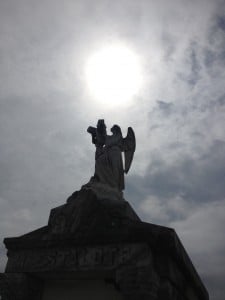 They told him he has six months to live.
With or without the treatment. So my cousin Roger stopped chemo cold turkey, decided that he wanted to live whatever life he has left awake, engaged, fully conscious.
Roger has colon cancer. It had already reached Stage Four by the time doctors discovered it. He tried all the treatment options, and they worked up until they didn't. Roger rented a beach house in Gulf Shores, Alabama and called us all up, his kin, and asked us to join him here. Then he drove his canary yellow Corvette from his home in Denver to Alabama.
Life has rarely been gentle with Roger, yet, you would never know it unless you knew it already. There is always, has always been, hilarity when he is present. Laughter is the exclamation mark he inserts into every conversation. And he does so even now, standing over a grill turning burgers, sitting at a table swapping stories, reclining on the couch surrounded by a disparate group of people, the blood kin. Jagged words rip through our throats as we seek to say the necessary things, too often neglected.
Just beyond this gathering house waves crash ashore as yellow lights from the too-close oil rigs rise skyward, rows of Indian campfires burning brightly.
We sit beside one another, legs crossed, arms outstretched, telling the stories of a shared history, remembering the hard things and how we survived to become a people of a hope and prayer, a people of grace and forgiveness, people strong even in our weaknesses.
Because if we have learned nothing else over the years, our tribe has learned to face tribulation shoulder-to-shoulder, leaning one on the other.