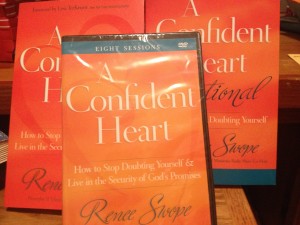 Ever have one of those times when:
We switched our sons' school, we adopted a baby from Ethiopia our twelve-year-old got swine flu the week before we went to Africa and we all got sick while we were there. At the same time, our adopted daughter had pneumonia and wanted nothing to do with us … A month later my mom was hospitalized for eight days with blood clots in her lungs, and a kidney infection… I remember telling my husband it was like 15 people were in my head all talking to me at once."
When that many people start talking to you in your head, you must start writing.
Swope did.
Want to know what she learned through all that?
Leave a comment below and you just might win a copy of A Confident Heart by Renee Swope, Proverbs 31 radio show co-host.