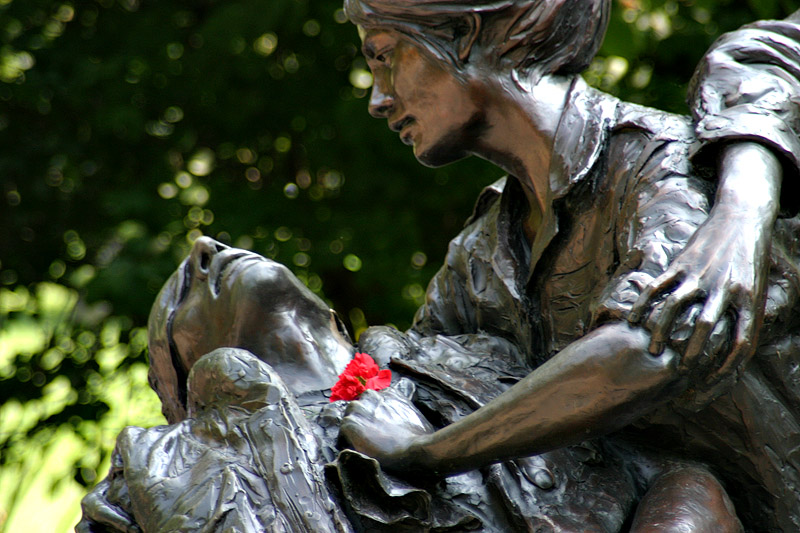 It's her daddy's fist slamming the table that Diane Carlson Evans remembers whenever she thinks back to that morning in 1966 when she broke the news to her family that she was headed to Vietnam.
"I can still see his hand leaving that coffee cup,"Evans said. "That tight fist on the table, then he walked out the kitchen and went out to the dairy barn." He never said a word.
"Dad has a hard time saying what he feels," said Evans, now 67, speaking from her home in Montana that she shares with her husband Mike.
That fist slam said it all.
"My father was devastated," Evans said.
The crusty Minnesota dairy farmer never counted on sending his daughter to war. His sons, yes. Volunteering for military duty during times of war is expected of Minnesota farm boys. But his daughter? The pig-tailed sprite who'd rode her first tractor sitting on her daddy's lap.
He hadn't counted on that.
Her mother handled it better.
"Mom's a nurse. She's very calm," Evans said. "Many of her nursing friends had served during World War II."
Memories come easily now for this former Army Captain. There was a time – an entire decade – when Evans refused to speak of the war in which she served.
Although she had two older brothers in the military, she was the only family member who ended up in Vietnam. The eldest brother was disqualified after he injured a knee in a jump with the 101st Airborne. The other, drafted in 1966, the same year Evans volunteered, was sent to Germany.
"I went to Vietnam to care for the soldiers," Evans said. Her voice held steady as she recalled how unprepared she'd been for what was to follow. "You don't see those kinds of wounds in triage. Those blast injuries. The punji stick wounds. The severe injuries caused by water buffalo and snakes, tigers and monkey bites."
Not to mention the diseases borne in a tropical climate – the parasites and the malaria. How does one find training for that on the ward or in the ER of a Minnesota hospital?
"Soldiers were dying of things I never imagined I'd see, things like cerebral malaria. All those young guys, so young, so brave. And all they wanted was to get back to their units, to their buddies."
After she left her father fell into a depression that lasted the entire time his daughter was in Southeast Asia. He'd walk from the barn to the house in time for the Walter Cronkite broadcast every single night during 1967 and 1968. Infuriated by the protests, he could not abide the way those faithful soldiers, soldiers like his daughter, were being treated.
The 21-year-old Evans was struggling with her own sense of injustices: "So many young men were suffering and dying. If the American people weren't supporting it and the government wasn't giving us a clear mission, then why were we there?"
She came home from Vietnam and got on with the life she envisioned for herself. She got married, had kids and a part-time job. There were no missing pieces to her life – only a hidden one.
Once, years after the war, when her surgeon husband was in his residency program in Texas, he mentioned to several other residents that his wife had served in Vietnam.
"I got so furious with Mike," Evans recalled. They'd been at a party. She went off by herself, away from the others, glued to the television. "It was the day the POWs were coming off the plane," she said. "As I saw them reunited with their families, I broke into a cold sweat. I began shaking. When Mike told them I'd been in Vietnam, I turned around and walked out of that house."
She didn't want people to know that she'd served. She'd felt betrayed by her country.
It's an emotion common to Vietnam veterans. One people in this nation are tired of hearing about. "Get over it," they say. But it's like author Tim O'Brien, himself a Vietnam veteran, said in his book The Things They carried – "That's the thing about remembering, you can't forget."
Evans tried to forget the names and faces of the boys, dead and dying, hurt and wounded. When night terrors roused her from sleep, in fits of primal screams,Mike knew better than to ask his wife what the dream had been about. He knew the answer already. It was always about Vietnam.
In 1982, after Evans learned there was going to be a dedication of the Vietnam Memorial Wall in Washington, D.C., she told her husband that she had to go – alone – the same way she had gone to war, all those years ago.
It was a turning point for her, seeing all those names etched in that polished granite.Evans ran her fingers gingerly across the names of soldiers she knew and those she didn't know. She thought of their mommas and their sisters, the wives and girlfriends who grieved for them still, and all those daughters they never got the chance to father.
The memories returned, unrelenting, like a tide at full moon. She searched until she found the name of 2LT. Sharon Ann Lane. Lane, an Army nurse, was working at the 312th Evacuation Hospital at Chu Lai on June 8, 1969 when a rocket struck. The blast killed two – one of those was Lane.
Although the Vietnam War would take the lives of other women,Lane was the only American woman to die as a result of direct enemy fire. The Canton, Ohio native is one of eight women whose names are inscribed on the Vietnam Memorial Wall. The news of Lane's death spread through the ranks faster than a stream of gasoline lit. Evans still remembers where she was when she first heard it.
"I knew it within an hour of her death. It was like when JFK was shot. I was calibrating an IV when someone told me an Army Nurse had just been killed in Chu Lai."
Everyone expected that America's sons would die. No one expected that daughters would, too. Evans thought of her own father and understood, finally, why his tight fist had come down so hard on that table.
In 1982, while standing in front of that black granite mirror,Evans shed her first tears over Vietnam. They would not be her last. Two years after her first trip to the Wall, the veteran nurse read that a new statue was being placed at the site. A statue of three American male soldiers.
'What about my sisters?' Evans wondered. 'Why aren't the women who served being recognized?'
From her Montana home,Evans set on a mission. She would find a way to memorialize the women who served in Vietnam. All of them. The nurses and the support personnel. Military and civilian.
If they served, they mattered.
"In the beginning we named our project the Vietnam Nurses Memorial project because I didn't even know that Special Services existed," Evans said.
"The only women I knew in Vietnam were all nurses. I didn't know then that there were women who served in Vietnam in different capacity. I knew the Red Cross was there but I didn't know there were others there who were just as dedicated to serving our men and women in the armed forces."
Once she learned of them, however,Evans broadened her vision for a women's memorial.
"We would honor all 265,000 women who served throughout the world during the Vietnam war," Evans said. "We would not forget any woman who served in support of our Armed Forces. They answered the call too. They count."
It's been 20 years since Diane Carlson Evans stood alongside fellow veterans – both sisters and brothers – to dedicate the memorial statue conceived by sculptress Glenna Goodacre.
It took 10 years of laborious efforts on the behalf of a lot of people, spearheaded by Evans, to get the memorial built. That effort included two separate pieces of Congressional legislation and the approval of three federal commissions. Evans never shied away from facing those who opposed her. Her time in the field had taught her to not back down from a fight.
She did it because Evans wanted the world to know that women served too. And that whether they served on the front lines or back behind the razor wire, their service mattered.
Military correspondent and author Joe Galloway remembers November 11, 1993, the day the Vietnam Women's Memorial was dedicated.
"There was a grand parade down Independence Avenue past the White House to the Vietnam Women's Memorial. We gathered up all the 1st Calvary Division veterans to march together behind our color guard. Just before the march kicked off, suddenly there appeared between Gen.Hal Moore and myself a short red-haired former Army nurse.
"She introduced herself and said she and her buddies from the 85th Evac Hospital — who had treated our wounded from the Ia Drang Valley battle that November of 1965 — wanted to march with us.
"We felt truly honored to have them join us and more than a few eyes had tears in them. That nurse held the general's hand and mine all the way down that parade rout.
"The courage and compassion of the women in Vietnam earned them the respect of everyone who served there. At any of the gathering of veterans when a woman tells me she served in Vietnam, I get up and give them a big hug and heartfelt thank you. God bless them all."
Recently, Mark Mitchell of Benton, Louisiana penned a note the advisory board of the Vietnam Women's Memorial. "I was choppered into the 67th Evacuation Hospital at Qui Nhon in July '69," he wrote. "The nightmares of the triage room have abated only because of the medications the VA gives me. Now I can sleep restfully but that does not erase the visuals, sounds, nor smells in my mind."
Mitchell was placed into a C 130 and sent to a hospital at Cam Rahn Bay. Then he spent 14 months recovering from his wounds at Fitzsimmons Army Hosptial in Denver.
"There is no way I can say thank you enough," he said. "When I think of you and my sisters, my eyes get misty and my stomach tightens." Mitchell keeps a photo of the Vietnam Women's Memorial on his desk as a reminder of the sisters who served alongside him. "I look at it with great love and respect every day of my life."
Sentiments like Mitchell's are often expressed at the site of the Vietnam Women's Memorial in Washington, D.C. And whenever Diane Carlson Evans hears stories like Mitchell's she's reminded of the protracted fight she and others waged to get the memorial built.
"I wouldn't give up on the site,"Evans said. "I fought really hard for my sister veterans the way I'd fought for my brothers in Vietnam. And when I see what our memorial has done for the families of these soldiers and the families of those who lost loved ones and the powerful and profound way in which it touches them, I know the fight was worth it."
Since Sept. 11, 2001, more than 90,000 women have served in the global war on terror. This Veterans Day, be sure and thank a veteran – a female veteran. Whether she is wrapping wounds at Womack, or working as a grunt in Kabul, or running a bookmobile in Baghdad, her service matters. It matters most especially to those men she serves alongside.
Karen Spears Zacharias serves on the advisory board for the Vietnam Women's Memorial Foundation and for the Vietnam Veterans Memorial Educational Board. She is the daughter of Stf. Sgt.David Spears, KIA, 1966.