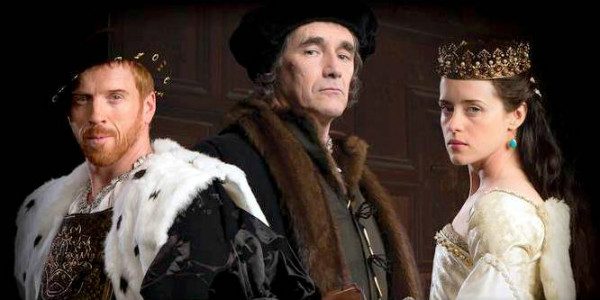 The U.K.-produced historical drama "Wolf Hall" premiered on Easter Sunday, April 5, on PBS' "Masterpiece." One has to wonder if PBS' scheduling was coincidental, or if the network meant to make some point about religion.
Based on novels by Hilary Mantel, "Wolf Hall" focuses on Thomas Cromwell (Mark Rylance), an English lawyer who served Henry VIII (Damian Lewis, in a genius bit of casting), whose desire to divorce himself from Catherine of Aragon ultimately split what is now the Church of England from the Catholic Church.
Cromwell also oversaw the destruction and looting of England's ancient monasteries, the proceeds from which went into Henry's coffers (and Cromwell's pockets).
Historians have found inaccuracies in "Wolf Hall," but that happens in every historical adaptation — and "Downton Abbey" creator Julian Fellowes, a Catholic, apparently didn't care much for it either.
More important from our perspective, the anti-Catholic Cromwell is the hero of Mantel's novels, and she is not exactly neutral when it comes to Catholicism. The author has made anti-Catholic statements, including this one (from the U.K. Telegraph), fueled, she claimed, by the sex-abuse scandals:
Asked if she would call for a priest on her deathbed, Mantel replied: "No. I might very well call for a Church of England vicar, but I would not call for a Catholic priest.

"I'm one of nature's Protestants. I should never have been brought up as a Catholic. I think that nowadays the Catholic Church is not an institution for respectable people."
As reported in the U.K. Catholic Herald, British Catholic bishops have spoken out about what they see as "Wolf Hall's" smear against Saint Thomas More, who was once Henry's right-hand man, before the split with Rome (and who was later martyred for refusing to accept Henry's divorce of Catherine and remarriage to Anne Boleyn):
The Lord Chancellor of England, played by Anton Lesser in the BBC Two Tudor history drama, is depicted as a cold and creepy misogynist who keeps a brain-damaged man imprisoned in his house apparently for his own entertainment.

Thomas Cromwell, who as King Henry VIII's Chief Minister helped to send St Thomas to his death, is in contrast projected as a deeply human, enlightened and modern man who cuddles kittens.
The article quotes Bishop Mark Davies of Shrewsbury as saying:
"We should remember 'Wolf Hall' is a work of fiction. It is an extraordinary and perverse achievement of Hilary Mantel and BBC Drama to make of Thomas Cromwell a flawed hero and of St Thomas More, one of the greatest Englishmen, a scheming villain.

"It is not necessary to share Thomas More's faith to recognise his heroism – a man of his own time who remains an example of integrity for all times. It would be sad if Thomas Cromwell, who is surely one of the most unscrupulous figures in England's history, was to be held-up as a role model for future generations."
Click here to read the whole thing, which you should definitely do before checking out the series.
But, as I trust Catholics to be able to make their own decisions, click here to be able to watch the first episode of "Wolf Hall."
UPDATE: Gregory Wolfe of The Washington Post also thinks "Wolf Hall" is distorting history and the Church and offers a detailed analysis. Click here for that.