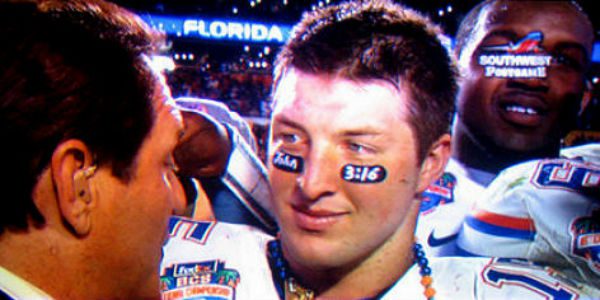 Just one more little stop along the strange and winding road of former and perhaps future NFL quarterback Tim Tebow, who came back from career oblivion to get a chance to join the Philadelphia Eagles for the 2015 season.
We're at the beginning of the preseason, and teams are still at training camp — and sometimes they scrimmage with other teams. It's summer; it's hot; there's fierce competition for roster slots — and tempers can boil over (it also helps that there aren't any official penalties for scuffling — at least not yet).
As fans of HBO's "Hard Knocks" have seen, the scrimmaging Houston Texans and Washington Redskins got into a few bench-clearing brawls, but they're not alone.
If they'd had Tim Tebow, maybe it would have stopped after one fight.
As reported by CBS Sports, a melee started to break out between the Eagles and the Baltimore Ravens on Wednesday (Aug 19), but the Eagles' fourth-string quarterback stepped in to calm the roiled waters.
As seen on Twitter:
4th stringer fight on the far field. But @TimTebow wades in and they part like the Red Sea.

— Michael Tanier (@MikeTanier) August 19, 2015
Tim Tebow broke up a fight during the Eagles and Ravens joint practice http://t.co/OkUSTvYPX4 pic.twitter.com/czmW4qZTXA — Sports Illustrated (@SInow) August 19, 2015
But, as the person who "broke" the story of @TimTebow "breaking up a fight," I am available for interviews, autographs, trysts… — Michael Tanier (@MikeTanier) August 19, 2015
Tebow is breaking up a bit of a scrap in the endzone. Couldn't tell who. #Eagles

— Eliot Shorr-Parks (@EliotShorrParks) August 19, 2015
Of course, someone had to chime in with the snark:
He then turned water into Gatorade & all were content RT @DRUDGE_REPORT: Tebow Breaks Up Fight At Eagles Practice… http://t.co/R3zszS77lC

— Peter Heise (@HeisePete) August 19, 2015
From the days as a Florida Gator when he used to inscribe it on his eyeblack, John 3:16 (and various permutations of the number 316) have been associated with Tebow. But today was Aug. 19, so what's John 8:19?
They asked him, 'Where is your Father then?' Jesus answered: You do not know me, nor do you know my Father; if you did know me, you would know my Father as well.
Not bad.
So, will Tebow be an Eagle when the regular season starts? Nobody but coach Chip Kelly knows for sure, but this is from today's USA Today, in a story called "Tim Tebow is in danger of actually making the Eagles roster," recounting the team's last preseason game:
Timothy Richard Tebow scored the final touchdown for the Eagles Sunday. Tebow dove into the end zone on a seven-yard designed run from the pocket. He was relatively clean, completing 50% of his passes, and avoided turnovers. Fans at Lincoln Financial Field even strung together a "Tebow!" chant during his first series.

"I liked how Timmy threw it," Eagles coach Chip Kelly said.

Yes. He called him Timmy.
Images: Screenshot/Getty Images (embeddable)
Don't miss a thing: head over to my other home at CatholicVote and like my Facebook page.