1.
Today is the feast day of St. Anthony of Padua. #saintoftheday pic.twitter.com/s6QGm7DTTM

— Diocese of Toledo (@DioceseToledo) June 13, 2016
2.
Stained glass of Saint Anthony of Padua: through his prayers may all who are lost find Jesus Christ https://t.co/6f4ExkhSlq

— Fr Lawrence Lew OP (@LawrenceOP) June 13, 2016
In these Sermons St Anthony speaks of prayer as of a loving relationship that impels man to speak gently with the Lord, creating an ineffable joy that sweetly enfolds the soul in prayer. Anthony reminds us that prayer requires an atmosphere of silence, which does not mean distance from external noise but rather is an interior experience that aims to remove the distractions caused by a soul's anxieties, thereby creating silence in the soul itself. According to this prominent Franciscan Doctor's teaching, prayer is structured in four indispensable attitudes which in Anthony's Latin are defined as obsecratio, oratio, postulatio, gratiarum action. We might translate them in the following manner. The first step in prayer is confidently opening one's heart to God; this is not merely accepting a word but opening one's heart to God's presence. Next, is speaking with him affectionately, seeing him present with oneself; then a very natural thing presenting our needs to him; and lastly, praising and thanking him.
In St Anthony's teaching on prayer we perceive one of the specific traits of the Franciscan theology that he founded: namely the role assigned to divine love which enters into the sphere of the affections, of the will and of the heart, and which is also the source from which flows a spiritual knowledge that surpasses all other knowledge. In fact, it is in loving that we come to know.
4.
The life of the body is the soul; the life of the soul is God. —Saint Anthony of Padua #Feast #saintoftheday pic.twitter.com/QXbpKYFMQO

— Arlington Diocese (@arlingtonchurch) June 13, 2016
5. From the Liturgy of the Hours:
The man who is filled with the Holy Spirit speaks in different languages. These different languages are different ways of witnessing to Christ, such as humility, poverty, patience and obedience; we speak in those languages when we reveal in ourselves these virtues to others. Actions speak louder than words; let your words teach and your actions speak. We are full of words but empty of actions, and therefore are cursed by the Lord, since he himself cursed the fig tree when he found no fruit but only leaves. Gregory says: "A law is laid upon the preacher to practice what he preaches." It is useless for a man to flaunt his knowledge of the law if he undermines its teaching by his actions.

But the apostles spoke as the Spirit gave them the gift of speech. Happy the man whose words issue from the Holy Spirit and not from himself! For some men speak as their own character dictates, but steal the words of others and present them as their own and claim the credit for them. The Lord refers to such men and others like them in Jeremiah: So, then, I have a quarrel with the prophets that steal my words from each other. I have a quarrel with the prophets, says the Lord, who have only to move their tongues to utter oracles. I have a quarrel with the prophets who make prophecies out of lying dreams, who recount them and lead my people astray with their lies and their pretensions. I certainly never sent them or commissioned them, and they serve no good purpose for this people, says the Lord.

We should speak, then, as the Holy Spirit gives us the gift of speech. Our humble and sincere request to the Spirit for ourselves should be that we may bring the day of Pentecost to fulfillment, insofar as he infuses us with his grace, by using our bodily senses in a perfect manner and by keeping the commandments. Likewise we shall request that we may be filled with a keen sense of sorrow and with fiery tongues for confessing the faith, so that our deserved reward may be to stand in the blazing splendor of the saints and to look upon the triune God.
6.
Today is the Feast of St Anthony of Padua, born in Lisbon! This is the church built atop the site of his birthplace. pic.twitter.com/8cvSUosvWw

— Diana von Glahn (@DianavonGlahn) June 13, 2016
7. From Magnificat: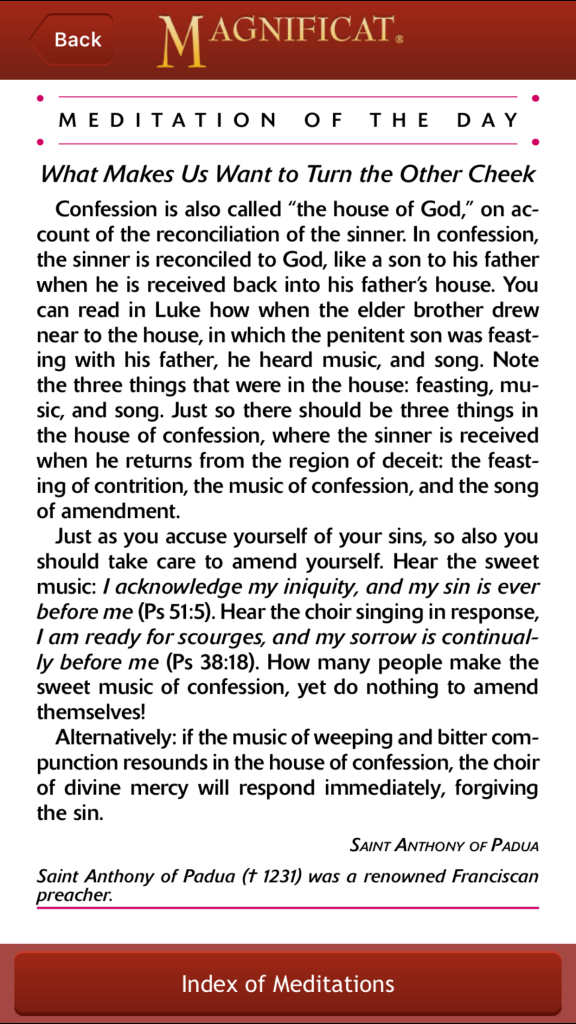 8. While at St. Anthony of Padua Church in D.C. earlier this year — an OSV column.
Today we celebrate the feast of a great saint who sought to live by Jesus' standards, whose life was a commentary on the Sacred Scriptures of which he was his age's greatest scholar and preacher, who was humble enough to suffer difficulties and neglect by uniting everything with the Lord. He preached most often on the passage to "seek first the Kingdom of God and his holiness," knowing everything else would be given besides. He constantly sought a greater assimilation with God. When he was a priest and Scripture professor in Coimbra as an Augustinian canon, he met the first Franciscan friars who were going to Morocco to take the place of other friars who had been martyred, he sought and obtained permission to follow them to take up what he thought was a fuller union with Jesus and his mission for the salvation of the world. He was open to the Lord's will, even when it seemed contradictory, like when he caught deathly ill on the beach of Morocco and needed to return to Europe, but it was in Europe that the Lord would give him the chance for a different type of witness and work for the salvation of the world. Both in humbly washing pots and pans in Forli or preaching all over Italy and France, he helped others to know Christ's standards and to adopt them. He would earn the nickname of the "hammer of heretics" by debating in city squares and elsewhere those propagating errors and bringing them and so many other listeners to conversion. He was a great peacemaker, reminding people through his own holiness that Christ would give them the power to stop the vicious cycle and to replace fighting with forgiving, because if he had forgiven them their sins, they could with that mercy forgive others.
And the source of his Christ-like conformity was entering into Holy Communion with him through the Eucharist. St. Anthony was involved in some of the greatest Eucharistic miracles of all time, which seem legendary but they're all so well attested that even though they seem too fanciful to be true, one still is led to believe them, like the time he, in response to a challenge from somebody denying Catholic faith in the Real Presence, prayerfully got an famished ox to descend in adoration of Jesus in the monstrance rather than eat. He had such a confidence in Jesus in the Eucharist that he knew nothing was impossible, and if creatures deprived of reason could be transformed, then everyone could come to be conformed to the Lamb. The Eucharist was the source of his sanctity and all of his apostolic fruitfulness.
Today he would doubtless tell us that, based on the readings, that living as Christians, living by Christ's standards and following his example, is not easy, but that God doesn't leave us along with demanding words. He gives us himself to help us meet his standards, and he offers us his mercy to help us never give up. Despite our sins having killed him, here he willingness goes far more than an extra mile and allows us to consume him. Here he gives us not just a tunic or cloak but his very own body, blood, soul and divinity. Here he gives to the one who asks. And then he tell us "Do this in memory of me." Learning from the example of St. Anthony, let us receive Christ today with faith that with him inside of us, we can not only live by Jesus' words but find in them truly the Good News that will lead us and the world to salvation.
10.
"The devil is afraid of us when we pray … when we are humble … He runs away when we make the Sign of the Cross." – St. Anthony of Padua

— Msgr B Bransfield (@BrianBransfield) June 13, 2016
PLUS: Lord, listen to my groaning.
While at St. Anthony of Padua Church in D.C. earlier this year.
On praying for priests.
Are we able to leave behind the moneybag of fear? The sandals of the past? #homilytweet pic.twitter.com/UGiFpPTrJF

— Kathryn Jean Lopez (@kathrynlopez) June 13, 2016