Today we celebrate the Feast of the Blessed Martyrs of Nowogródek. I saw this painting this morning and caught my breath: I recognized the habit, but what was this story!?
In the twelve years I spent under the tutelage of the Sisters of the Holy Family of Nazareth, I don't remember ever hearing the story of how eleven of their Sisters died in 1943 in occupied Poland, executed by a Nazi firing squad. Here is their story.
* * * * *
The Sisters of the Holy Family of Nazareth were founded in 1875 by Blessed Mary of Jesus the Good Shepherd (Franciszka Siedliska). The Sisters of the Holy Family are an apostolic, international congregation, serving the Church on four continents and in thirteen countries including the United States but also Australia, Belarus, England, France, Israel, Italy, Lithuania, the Philippines, Poland, Puerto Rico, Russia, Spain, and Ukraine.
The Sisters of the Holy Family were invited to the Polish town of Nowógrodek by Bishop Zygmunt Lozinski in 1929. During the Nazi and Soviet occupation of Poland, the Sisters' ministry was to prepare for religious services.
In 1942, the Nazis began a widespread extermination of the Jews—murdering about 9,500 of Nowógrodek's 20,000 citizens, and sending another 550 Jews to slave labor camps. In 1943, another 60 people—including two Roman Catholic priests—were slaughtered in the town. Another 120 citizens were arrested on July 18, 1943 and slated for execution.
In the face of the Nazi atrocities, the Sisters of the Holy Family of Nazareth unanimously expressed their desire to offer their lives in sacrifice for the imprisoned. Sister Mary Stella, their superior, spoke on their behalf to their chaplain, Father Zienkiewicz, saying, "My God, if sacrifice of life is needed, accept it from us and spare those who have families. We are even praying for this intention."
Almost immediately, the prisoners slated for execution were unexpectedly deported to work camps in Germany. Some were even released into the community. But when Father Zienkiewicz's life was threatened by the Nazi regime, again the Sisters offered their lives, this time in exchange for his: "There is a greater need for a priest on this earth," Sister Stella said, "than for us. We pray that God will take us in his place, if sacrifice of life is needed."
On July 31, 1943, a police officer ordered Sister Stella to appear with all the Sisters at the Gestapo headquarters. Eleven sisters complied with the order. The Gestapo—determined to eradicate religion—intended to exterminate priests and religious without an investigation; and when eleven of the Sisters complied with the order, they were imprisoned. Early the following morning—Sunday, August 1, 1943—the Sisters were executed in the woods outside Nowogródek, their bodies buried in a common grave.
After the execution, Sister Malgorzata Banas, the community's sole surviving member, located the scene of the martyrdom. Sister Malgorzata remained the guardian of the common grave until her death in 1966. The eleven martyrs were beatified by Pope John Paul II on March 5, 2000, and their relics are now protected in Poland's "Biala Fara" or "White Church," the Church of the Transfiguration.
The eleven martyrs, all Sisters of the Holy Family of Nazareth, are Sister M. Stella, Superior (age 54); Sister M. Rajmunda (50), Sister M. Imelda (50), Sister M. Daniela (48), Sister M. Kanuta (47), Sister M. Gwidona (43), Sister M. Sergia (42), Sister M. Kanizja (39), Sister M. Felicyta (37), Sister M. Heliodora (37), and Sister M. Boromea (26).
The Sisters of the Holy Family of Nazareth in My Hometown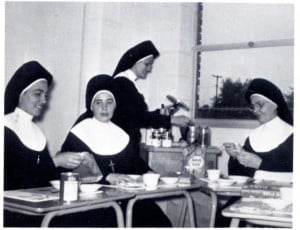 An order of Roman Catholic Sisters of Polish descent, the Sisters of the Holy Family of Nazareth guided me through eight years of elementary school and four years of high school. In the early years, the Sisters faced what would be regarded today as an insurmountable challenge: My first-grade class was 64 strong, with only one teacher and no teachers' aides; and yet we learned. Our parents—who sacrificed to send us to Catholic school, believing we would receive a superior education—were not disappointed.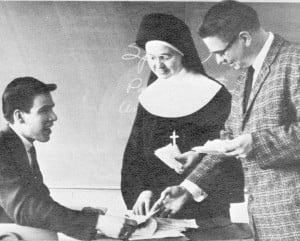 Sister Mary Amabilis (1st grade), Sister Gracille (2nd and 4th grades), Sister Richard (3rd grade), Sister Georgia (6th grade), Sister Regina, Sister Jerome: The Sisters were all so different, one from another. Each had her own way, teaching by example and teaching by rote and memorization, guiding us through the Baltimore Catechism and the Weekly Reader. Some were strict, some wore smiles more than they did frowns; but all were trying to help us to understand the Faith and its meaning in our lives. They were stalwart, dedicated to helping us grow in knowledge and virtue and faith. Some achieved that noble goal with smiles and hugs, others with a ruler; but always, with affection.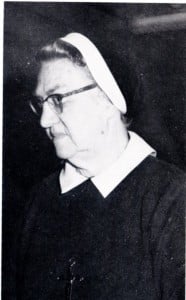 Later, in high school, it was a different group of Sisters who shaped my life: Sister Modesta, Sister Patricia, Sister Therese, Sister Bonfilia, Sister Damien, Sister Sophia, Sister Virgiline, Sister Gabriel, Sister Simplicia. And Sister Mary Edward—most of all, Sister Edward. I wrote about her in my very first blog entry in 2010, about her role as journalism moderator in my high school, and about her influence in turning me toward creative writing.
Looking back, I realize that when I first met the Sisters of the Holy Family of Nazareth, as a tiny kid entering elementary school at St. Francis Cabrini parish in Allen Park, the executions of their fellow Sisters would have occurred only thirteen years earlier. Most likely, the Sisters who taught me to read, who transmitted knowledge about math, science, and geography, knew some of those martyrs personally.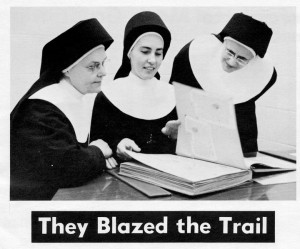 Many of those Sisters who left such a mark on my soul are gone now, and lie in rest at the Motherhouse in Pittsburgh. Some are older, retired. A few of them continued teaching in Allen Park, years later planting the seed of faith in our children's lives.
Today, on this feast, I pray for those who need our prayers, and I pray to those holy martyrs who have shown us the way of courage and faith.
Cabrini High, our alma mater, we salute you, your sons and daughters.