Popular golfer Bubba Watson took away his second green jacket in three years today, winning the 2014 Master's Golf Tournament in Augusta, Georgia.
The devoted family man hugged his wife, then picked up his young adopted son and carried him on a brisk victory walk, high-fiving fans who lined the green.
Unabashed in his Christian faith, Watson describes himself on his Twitter page as "Christian. Husband. Daddy. Pro Golfer."  The Christian Post reported on a 2012 interview Watson did with the Billy Graham Evangelistic Association:
…The Christian golfer said he has lost at least 100 followers for tweeting biblical messages.

When Watson receives negative backlash for his biblical tweets, he responds with messages like "I will pray for u and ur family." The golfer also quoted one of his favorite Christian rappers, Lecrae, saying he would like his followers to see God through him.

"Lecrae said it the best," Watson told the Billy Graham Evangelistic Association. "He doesn't want to be a celebrity. He doesn't want to be a superstar. He just wants to be the middle man for you to see God through him."
This year, the Christian golfer praised God for the win and took time to pray, too, for Briggs Berry, a 17-year-old golf fan who is hospitalized with a rare disease.  Berry has X-linked hyper IgM, a syndrome in which a lack of certain antibodies makes it extremely difficult to fight infections.  He had a bone marrow transplant two months ago, but is still hospitalized.
This afternoon Berry, who uses the Twitter handle "Cpt. LOGANITIS", posted a photo holding a Master's flag which had been autographed by Bubba Watson.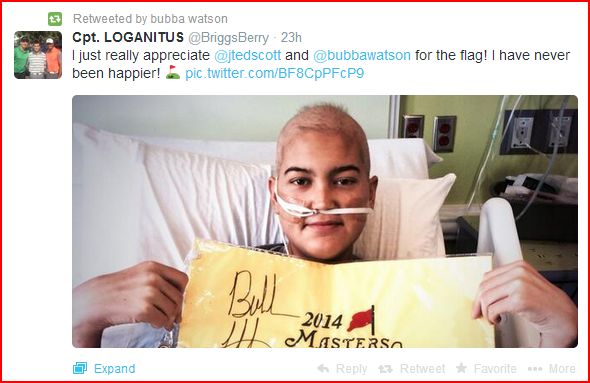 Bubba responded, promising prayer for the young man:

And he had a word of thanks, too, for his loyal fans.  "I feel incredibly blessed," he said.