HAPPY BIRTHDAY, PATHEOS!
It's been five years since Leo and Cathie Brunnick launched their digital areopagus, this place where people of different faiths can come together, discuss and engage. With some 100 faith traditions represented, Patheos has become the premiere host site for smart, serious and respectful conversations on controversial issues of religion, spirituality and ethics.
Since its inception, Patheos has become a formidable presence on the Internet, attracting committed Christians, determined atheists and ardent evangelicals, both people with the conviction of faith, and those who are seeking.
Here's how I know that Patheos has become one of the top "go-to" religion sites on the Internet: I came on board in March 2012; and since that time, Seasons of Grace has been read more than 1.5 million times by 685,000 people in 218 different countries.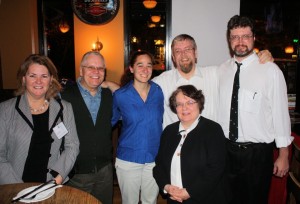 I count my fellow bloggers among my friends, and have had the opportunity to meet up with a number of them. (As proof, I'm including a few photos that I've been able to dig up from our fun times together.)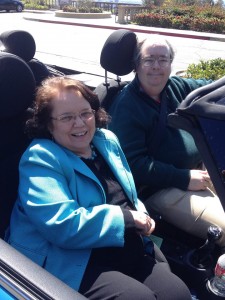 I've gotten to know some of my readers personally, too, and I've enjoyed the conversations that have developed.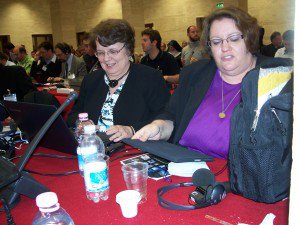 TODAY, AS WE ALL CELEBRATE THE BRUNNICKS' BOLD VISION, I thought I'd take a trip down memory lane, recollecting some of my favorite posts from the past. I arranged them topically because… well, just because.
MARRIAGE AND FAMILY
GOD NEVER PUTS TWO SPOONS TOGETHER. My husband and I–well, we're deeply in love, but we definitely have that "Mars/Venus" thing going on.
SOMETHING BEAUTIFUL FOR GOD: Has First Communion Fashion Gone Over the Top? Everyone loves a party–but how much is too much, so that it takes away from the spiritual significance of this very special event?
FAITH AND SPIRITUALITY
IT DEPENDS ON WHAT THE MEANING OF 'IS' IS: What Did Jesus Really Mean? This one is on the Eucharist: What Catholics believe about the Sacrament, and how other denominations regard it.
MARY, UNTIER OF KNOTS.
This is Pope Francis' favorite Marian devotion, so you should know something about its origins and its meaning.
MARTIN LUTHER KING QUOTES AUGUSTINE AND AQUINAS. From King's Letter from a Birmingham Jail, reflections from leading Catholic theologians as told by the civil rights leader.
SOCIAL ISSUES
FEMINIST CHUTZPAH: HuffPo Columnist Scolds Pope Francis for His Catholic Faith. I still can't believe it, but this chick actually developed nine bullet points to help the Pope "improve."
LAST MEAL, LAST CHANCE: Convicted Killer Chooses Christ. The "Last Meal Project" takes a look at the last meals requested by condemned prisoners before their executions. The special orders included steaks, ice cream… but one reformed convict chose only to receive the Eucharist.
WHAT'S IN A NAME? Our Government's Lopsided Policies Toward the Developmentally Disabled: You Can't Call Them a Name, But You Can Kill Them At Will. This one's about Down Syndrome, and how skewed are our government policies.
AIN'T I A WOMAN? Sojourner Truth and the Liberation of America's Smallest Women. I remember studying that famous speech when I was in college. If you're an open thinker, you can see that the former slave's logic applies also to the protection of unborn children.
FEATURES
WHERE THE LOVE OF GOD GOES: The Wreck of the Edmund Fitzgerald. On one of our first road trips together, my husband and I stopped at the Sault Locks at Sault Ste. Marie, in northern Michigan, and photographed a ship which was passing through. Only years later, looking at our old 35mm slides, did we realize that we'd caught some extraordinary shots of the Edmund Fitzgerald, the great freighter which was doomed to sink in the Great Lakes. Here are the photos, and my reflection on the men who died.
ON A WING AND A PRAYER: Astronauts "Touch the Face of God." A listing of some of the prayers which have been offered in outer space, including a famous Christmas Eve audio recording.
SHEPHERD IN COMBAT BOOTS: A Conversation With Fr. Kapaun's POW Friend. We were traveling in South Carolina when I stumbled upon this story. I phoned South Carolina native Bill Funchess, who had been thrown into the same hut with Fr. Emil Kapaun when both were prisoners of war during the Korean War. The stories he told me will bring tears to your eyes.