On August 22, theatergoers will be treated to a new sports film from Sony Pictures and Affirm Films, WHEN THE GAME STANDS TALL.
Inspired by a true story, the film tells the remarkable journey of legendary football coach Bob Ladouceur, who took the De La Salle High School Spartans from obscurity to a 151-game winning streak that shattered all records for any American sport.
I had the opportunity this week to talk with Jim Caviezel, who plays Coach Ladouceur, about the film.  What, I asked him, attracted you to the role of Coach Bob Ladouceur?
Caviezel's respect for the legendary coach was evident.  "You have thousands of kids who play football across the U.S.," he told me.  "And all the other sports:  basketball, soccer, even NFL.  No one has come close to winning 151 straight games.  No one!"
And Jim, with his characteristic passion, talked about the role that athletics has played in his own life.   He played basketball for seventeen years and had considered a career in the sport, before an injury ended that hope and he turned toward acting.  In his senior year of high school, his team had for the first time qualified for the state tournament.  He recognized his own story in the challenge facing the De La Salle team, confronting a much bigger opponent on the field.  For Caviezel, WHEN THE GAME STANDS TALL seemed an allegory for his own life experience.  "When you think you're playing someone bigger than you and taller than you," Caviezel said, "but your heart is swollen–there's something deep inside you.  You can't let your teammates down."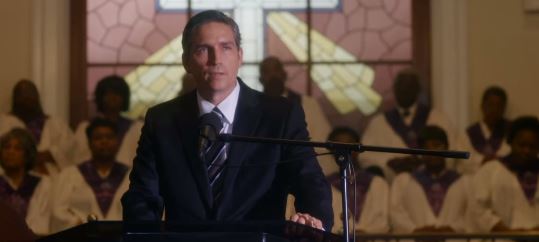 The fact that De La Salle was a Catholic school, with an emphasis on faith, was also not lost on Caviezel.  "I grew up Catholic," he reminded me.  His strong faith has influenced the roles he's accepted–most notably, of course, Jesus in The Passion of the Christ; but also the title character in Bobby Jones, Stroke of Genius, and Edmond Dantès in The Count of Monte Cristo.
I asked Caviezel what aspect of the role was most challenging to him personally; and his dedication to excellence was apparent in his answer.   "Like anything," he responded, "you want to get it right."  He reminisced about his own basketball days, when he would practice morning, afternoon and evening.  Often, he noted, you see an actor engaged in an athletic event on the screen, and you can tell he's an actor.  Jim strove in his own work to convey authenticity, to take the cast to the point where the lines don't appear memorized.  "Whether playing Bobby Jones or Jesus," Jim said, "I'd rather people see BJ or Jesus there on the screen, not Jim Caviezel."   (I think he was successful; when my husband and I left the theater after a recent leadership screening, that's exactly the point my husband made about the athletics on the screen.  "Sometimes," he said, "you can tell it's not real; this was really good.")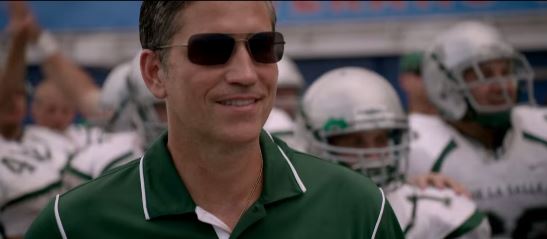 Jim told me that he saw himself in many of the young cast members in this film.  Fifteen or twenty years ago, Jim's focus was on basketball.  As an athlete, and later as an actor, he faced the challenge of performing in front of a large crowd, under pressure.  These young actors reminded Jim of those early years in his own career.
"But," he added,
"…and this is a BIG 'but':  For any actor, whether it's a young actor starting out, or Richard Harris or Mel Gibson who taught me, it's always about the story.  In this particular case, the story is about the coach and his commitment to his team, and the value that the boys placed on that commitment.  

If I had to choose a single lesson which a student could learn from participating in sports, it would be that:   how to make a commitment, to enter into relationship with me and with everyone in the program.  The lesson I hope I passed along to the younger actors is that.  'Look, there have been great actors before me who taught that to me; and now I am passing it along to you.'" 
Jim went on to number Coach Lad's accomplishments:  He had never set out, Jim said, to create a winning football team.  He really wanted to create good men, to help boys to become men of virtue, men who could be depended upon.  It just so happened that the positive virtues–tenacity, dependability, courage, sacrifice–transferred onto the football field with incredible result.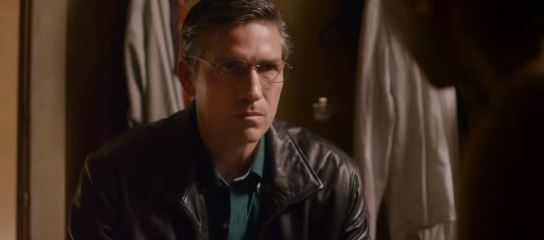 I asked Jim, based on his own knowledge of the story, whether he believed that De La Salle's historic winning streak was due mostly to the coaching skill of Bob Ladouceur, to the climate of excellence at the high school, or to something else.  And here, Jim's noble vision of life was most evident.
"One has to look at the history," he said.
"…Did this winning streak or any streak exist before him?  But I know that Coach Ladouceur, if asked, would tell you that his faith, and the consistency of that faith, produced a great version of who he is; and that led to a leadership style that encouraged these boys to depend on one another like nobody else.

"In the film, when the team members hold hands as they come out onto the field,  that tells us how close they are.  He talked about being a Spartan, and maybe he helped to define what that meant.  And he talked about courage–not just about being brave in the face of an opponent, but also about having the courage to face our own shortcomings."
Caviezel reiterated Coach Ladouceur's message, that the biggest reason we don't achieve is that we don't believe we can.  "At the end of the day," Jim said, "I watched those boys look into his eyes."
Coach Ladouceur embodied Christ, Jim told me.  And reflecting on the Catholic messages in the film, Jim noted, "I don't know how many other films have the 'Our Father' in them."  
He waxed theological, citing the Scripture that "There is no greater sacrifice than to lay down one's life for one's friends."  Coach Ladouceur teaches that, Caviezel believes, in his personal sacrifice, in the brotherhood.
Jim Caviezel is ideally suited for the role of Coach Bob Ladouceur.  He models the determination and leadership it takes to win a record-setting 151 straight games; then, when The Streak ends, he teaches an important lesson of the heart:  that true excellence can be found not only in athletic prowess, but in forgiveness, in commitment, and in brotherhood.
A great family film, sports film and date film, WHEN THE GAME STANDS TALL has a message which will impact a wide audience.  I'll be proud to share it with my own family!