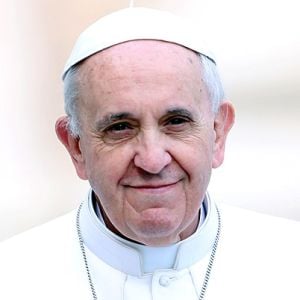 At first the Vatican would neither confirm nor deny that Pope Francis had met with Kentucky county clerk Kim Davis, who was jailed for five days after refusing to issue marriage certificates to same-sex couples.
Then, Father Federico Lombardi, SJ, Vatican spokesman, admitted that a brief meeting had taken place at the Vatican Embassy in Washington DC, but that news of the meeting had remained private until after Pope Francis had left the country, so as not to overshadow the Pope's message during his U.S. trip.
And now today, the Catholic Herald reports that the Vatican is apparently distancing itself from Kim Davis. The Herald quotes a statement from Father Lombardi which said:
"The brief meeting between Mrs Kim Davis and Pope Francis at the Apostolic Nunciature in Washington, DC has continued to provoke comments and discussion. In order to contribute to an objective understanding of what transpired I am able to clarify the following points.

"Pope Francis met with several dozen persons who had been invited by the Nunciature to greet him as he prepared to leave Washington for New York City. Such brief greetings occur on all papal visits and are due to the Pope's characteristic kindness and availability. The only real audience granted by the Pope at the Nunciature was with one of his former students and his family.

"The pope did not enter into the details of the situation of Mrs Davis and his meeting with her should not be considered a form of support of her position in all of its particular and complex aspects."
This will be disappointing news to Catholics who had hoped
that Pope Francis would clearly address the matter of religious liberty during his U.S. visit, and who saw the meeting with Kim Davis as a demonstration of papal support for her cause.
But then again, the Pope in his in-flight press conference as he returned to Rome did speak of the right of conscientious objection, even in the case of government officials. Responding to a question from ABC News' Terry Moran, Pope Francis said:
"Conscientious objection must enter into every juridical structure because it is a right, a human right. Otherwise we would end up in a situation where we select what is a right, saying 'this right that has merit, this one does not.' It (conscientious objection) is a human right. It always moved me when I read, and I read it many times, when I read the "Chanson de Roland" when the people were all in line and before them was the baptismal font and they had to choose between the baptismal font or the sword. They had to choose. They weren't permitted conscientious objection. It is a right and if we want to make peace we have to respect all rights."
Asked to clarify whether that right applied also to government employees, the Pope continued:
"It is a human right and if a government official is a human person, he has that right. It is a human right."