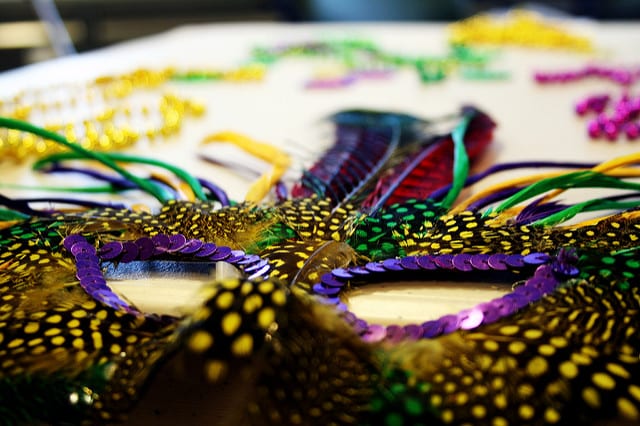 Today is Mardi Gras, literally "Fat Tuesday," the last day of the Carnival season. In my home state of Louisiana, it brings a half or full week of school break, and even a couple of days off work for some folks. Here in Texas, I often field curious questions from friends who have only vaguely heard about the party weekend in New Orleans.
A Short History
Fat Tuesday is so named for the excess it brings as the day before Ash Wednesday, the first day of Lent. We'll work backward from Easter to show the timeline:
Easter: The celebration of Jesus's resurrection from the dead, the pinnacle of the Christian year.
Lent: The forty days prior to Easter, during which believers spend time in reflection, fasting, repentance as they contemplate the coming of Good Friday, on which the crucifixion of Christ is remembered every year.
Ash Wednesday: The first day of Lent, marked by a ceremony during which participants receive a mark, in the sign of the cross, with ashes (often those of palms from the previous year's Palm Sunday services). The ashes represent sorrow, humility, repentance, and mortality: we acknowledge our humanity in all its frailty and sin. This concept comes straight out of the Old Testament (Job 30:19, 42:6). The Ash Wednesday tradition is believed to have begun around 600 A.D. with Pope Gregory the Great.
Mardi Gras: In preparation for the forty days of Lent, which involves fasting and abstinence from all sorts of excesses, traditions sprang up in different parts of Christendom of ways to rid the home of luxuries. One primary tradition involves abstaining from meat, originally for the entire forty days, then pared down to just Fridays and Ash Wednesday. In some parts of the world, all butter and eggs, and dairy were given up, so the night before—Tuesday—communities would get together for a big pancake dinner. "Shrove Tuesday" is still practiced in England. Other parts of the world indulged "one last time" in many vices and excesses, giving rise to what we now know as Carnival season, or Mardi Gras. What began as a simple way of ridding the home of items that may tempt them (or in the case of food, go bad) devolved into an excuse for revelry and vice.
Surprised? Didn't think so. That's human nature.