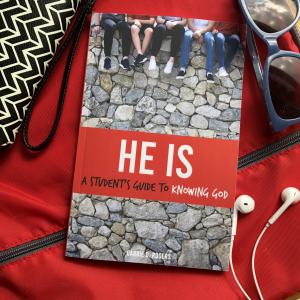 As a mother of three teenagers (plus a younger one), I am constantly looking for biblical content they can use in their personal study of God's Word. It's challenging to find something with both depth and ease of use. I have found children's
books
, but nothing at the teen level.
So when my friend
Carrie Rogers
began dropping hints about a new study she was writing—for teens—I kept track of her progress. And I'm excited to introduce her, and her new book,
He Is: A Student's Guide to Knowing God
,* to you. This study introduces 11 names of God and, with these names, the character traits or qualities of God that help us to know and trust him more. Students will:
Learn 30 faith-building truths about who God is and how he works in their lives;

Grow confident in their relationship with Jesus and their desire to know him more;

Connect the truth of God's Word to their daily lives;

Practice living out their faith in simple, practical ways.
Carrie kindly let me ask her a few questions about the process and purpose of writing this study.