Yesterday, Dustin Johnson won the Mexico Championship at Mexico City by one stroke. It is sort of a new tournament on the PGA Tour that switched venues from Trump National Doral Miami. It was Johnson's fourth World Golf Championship title.
Johnson held a four stroke lead over Spanish rookie sensation Jon Rahm, who attended Arizona State University. Then Rahm rattled off two birdies at the Chapultepec Golf Club, and the game was on. But Rahm, who had not three-putted during the entire tournament, then three-putted the 16th and 17th holes to give Johnson a one shot lead with one hole to play. Johnson then drove into a fairway bunker on the par-four 18th hole. Although Johnson only had a long wedge shot to the green, he had a difficult stance with his heels standing outside the bunker and his ball lying considerably below his feet. Thus, he had to bend over more in his stance. But he caught the ball solid on his swing so that it stopped pin high about twenty feet away for an easy two-putt for the win.
Perhaps the biggest hazard for the week was that some of the pros got diarrhea. Tourists and other visitors to Mexico often get it, and its called "Montezuma's revenge." It's an upset stomach caused by a bacteria that can be contracted from parasites in the food and water. Natives, of course, are used to it so that they don't get an upset stomach.
When people from the U.S. visit Mexico, you're told, "don't drink the water." It's pretty difficult to do that, and many visitors try to drink carbonated drinks. Thus, Coca Cola used to be a big seller in Mexico. Even bottled water may not help, since it is usually bottled in Mexico. And you must not have ice with your drink.
Rory McIlroy was the tournament leader the first two days even though he was fighting Montezuma's revenge. The news media said several caddies had it. They can't afford to eat at those fancy restaurants that the pros eat at, where they may be served with food and drink that are safe.
One time when I played a Senior Tour event in Mexico, I didn't get Montezuma's revenge until I returned home. And it took me several months to fu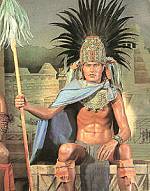 lly get over it. I've read that most cases of it are caused from the E. coli bacterium.
Montezuma's revenge is a colloquial term. I guess it can happen in any Latin American country. The term derives from Moctezuma II. He was emperor of Mexico from 1502 to 1520. So, he was in power when the Spanish Conquistadors began their conquest of the Aztec Empire. You can figure out why the locals coined this term and applied it to many visitors to their country, since many of them are descendants of those who colonized their land. It is a fitting term.