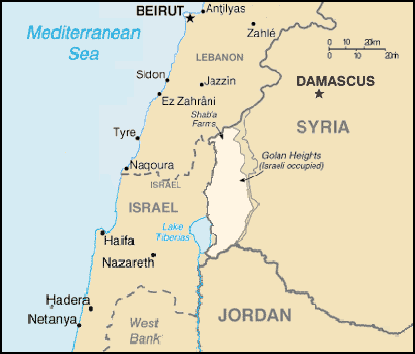 Yesterday, Israel's Prime Minister Benjamin Netanyahu spoke at a special ceremony held in the Golan Heights. The purpose was the renaming of a tiny Jewish settlement there, previously named Bruchin. It has a population of only ten people. But Israel has plans to bring many Jewish settlers to this region. Netanyahu renamed Bruchin "Trump Heights" after his "great friend" Donald Trump.
Bruchin was established thirty years ago. That was eight years after Israel had annexed the Golan Heights, in 1981. The Golan Heights previously had belonged to Syria. But in the Six-Day War of 1967, Israel took possession of the Golan Heights from Syria. Syria tried to retake The Golan, as it is also called, in the 1973 War, but failed to do so.
The elevated Golan Heights is militarily strategic. It's southern portion borders upon, and overlooks from the north, Lake Tiberias. It is called in the Bible "the Sea of Galilee." The Roman city Tiberias existed in the time of Jesus. It was the largest city then located on the lakeshore. In fact, Jesus conducted much of his two-to-three year, itinerant ministry mostly in the northern lands bordering the Sea of Galilee, thus right next to the southern portion of the Golan Heights.
David Friedman, the U.S. ambassador to Israel, attended the ceremony. U.S. special envoy to the Middle East, Jason Greenblatt, also attended. He was asked about the upcoming peace plan conference regarding the Israeli-Palestinian conflict to be held in Bahrain in less than two weeks. This plan supposedly has two parts: economic and geo-political.
Greenblatt revealed for the first time that due to PM Netanyahu's inability to form a coalition government, which calls for reelection in October, the revelation of the geo-political portion of this Trump-Jared Kushner peace plan will be delayed until November. Thus the Bahrain conference will be only about the economic portion of the plan. Greenblatt also said that due to this new situation, Israel would not be represented at the conference. The Palestinian Authority is boycotting it. Greenblatt also said he agrees with Friedman's recent public statement that Israel has a legitimate right to annex portions of the West Bank.