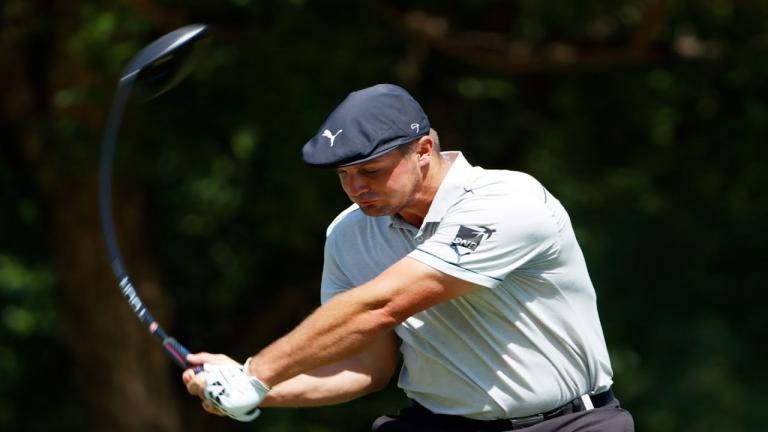 Bryson DeChambeau–the main talk of the PGA Tour right now with his bulking up in the gym to become the longest driver on Tour–won the Rocket Mortgage Classic by three strokes over Matt Wolff with a seven under par 65 today. Bryson has been on the PGA Tour five years now, and he has won a tournament each of those five years for a total of six wins. Besides being known as the Mad Scientist because of his analytical intellect and unorthodox approach to the game of golf, the guy is Mr. Consistency.
DeChambeau began the day in second place, three strokes behind 21-year old sensation Matt Wolff. Matt was anything but a wolf the front nine, going three over par. He salvaged his round with a one under par score 71 to finish alone in second for what was still a very handsome payday. Hall of Famer and TV commentator Nick Faldo said DeChambeau was the longest driver of the tournament, and Wolff was second.
Both of these players are causing even the elite swing coaches of the game to rethink how this silly game on grass should be played regarding both equipment (golf clubs) and swing technique. These two guys have definitely added some interest to a game that moves slowly on the ground. More than any other sport, golf has intrigued many of the curious-minded as to how it should be played.
My new nickname for the Mad Scientist is Bar Bell Bryson. He didn't look like this before; now, he looks like he's swinging a bar bell instead of golf club. Yet he's quite accurate, hitting a lot of fairways with his 350-yard launches with the driver. And his putting style I really like. It is the most mechanical, locked-in way of putting you can possibly imagine. He uses the long putter with the grip-end of the shaft anchored to his left arm. The rule change about the long putter was that they stopped golfers from anchoring the grip end of the shaft to the chest, but they didn't stop players from doing what Bryson does.
When I was on the Senior/Champions Tour, I actually practiced that form of putting at home, and no one was doing it on the Tour. But I didn't have the nerve to try it in tournament play. Most people thought you could putt short putts better that way. I thought so too, but wasn't sure. But I was sure that I could putt long putts better that way. It's one of those things that I regret not trying in tournament play, especially as I watch Bar Bell Bryson making that thirty footer on 16 today to regain his three stroke lead and take it all the way to the clubhouse. Nice win, Bryson.
Keep up the interesting work. You are proving me right. Gary Player and I started predicting over 50 years ago that most PGA Tour players eventually would lift weights to get stronger to both hit the ball farther and swing better. But everyone in golf, included all Tour players, disbelieved us, and many scorned us, saying we were crazy.